Croatia: Prehistory to the Present
---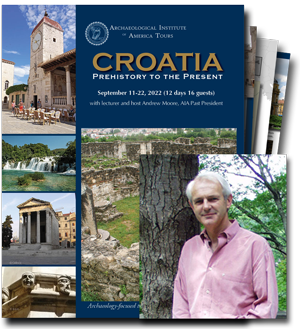 This fall, join Past President of the AIA Andrew Moore on a unique archaeological tour of Croatia. Andrew and his wife Barbara have been conducting an archaeological project in Croatia for the past 15 years that has given them insights into the rich cultural heritage of this fascinating region at the heart of southern Europe which they are delighted to share. Enjoy 4- and 5-star accommodations while experiencing Croatia from prehistory to the present.
The tour will begin in Zagreb, Croatia's capital, with its strong Middle European personality. It will conclude in Dubrovnik, that most evocative of walled towns, and for centuries a city state in its own right. Along the way we will experience the varied scenery of this extraordinary country: rich meadowlands, impressive mountain ranges, and the dramatic Adriatic coast, surely among the most impressive in all of Europe. Throughout, our focus will be on the rich archaeological and historical legacy of Croatia from earliest times to our own day. Explore prehistoric cave sites, a Bronze Age hillfort, a magnificent Roman amphitheater and an imperial palace. Also admire two spectacular national parks with waterfalls, lakes, and gorges; and enjoy opportunities to meet local experts in archaeology and other fields, and to sample the delights of Croatian cuisine in all its variety.
When placing events on your calendar using these buttons, please check that time zone displays correctly.