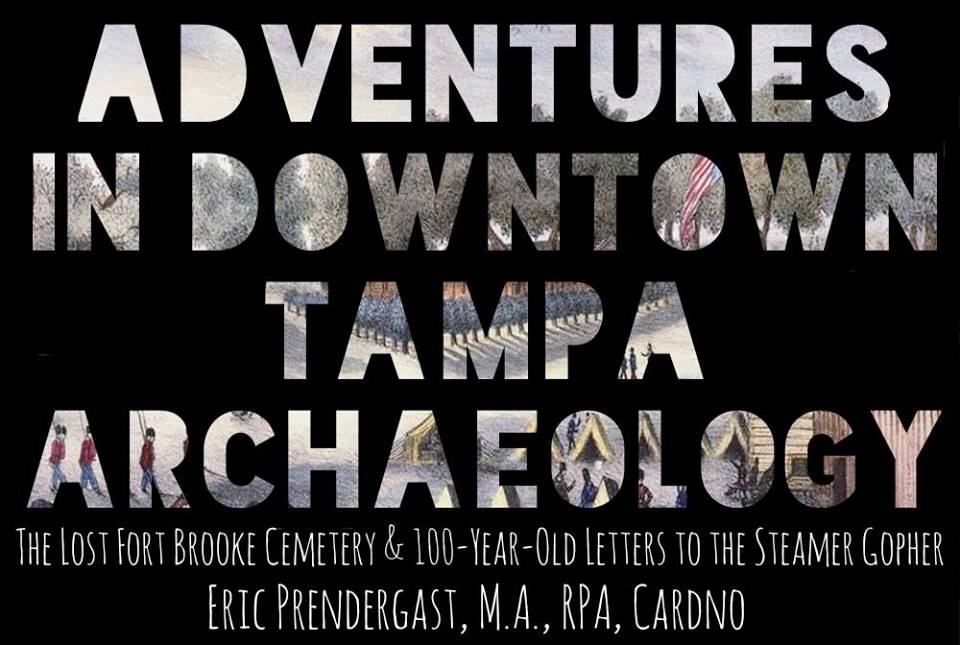 Adventures in Downtown Tampa Archaeology – The Lost Fort Brooke Cemetery and 100-Year-Old Love Letters to the Steamer Gopher
Eric Prendergast, M.A. RPA, Senior Staff Archaeologist, Cardno
Almost everywhere you dig in southern downtown Tampa, near the water front, there are some remains from the infamous military installation that gave rise to the town of Tampa in the early 1800s. It has long been known that Fort Brooke had two cemeteries, but only one of them was ever found and excavated in the 1980s. Recent excavations across downtown Tampa have focused on the hunt for the second lost cemetery, among many other components of the fort. While testing the model designed to locate the cemetery, a sealed jar was discovered, crammed full of letters written in 1916. The letters were mailed to someone aboard C. B. Moore's steamer Gopher, while the ship completed it's 1916 expedition on the Mississippi River. What were they doing buried in a parking lot in Tampa?
Eric Prendergast, M.A., RPA. Senior Staff Archaeologist with Cardno.
Eric is a transplant from the northeast who has only lived in Tampa since 2012, when he came to graduate school at USF. Since then he has worked in CRM and has recently served as Principal Investigator for major excavations in Downtown Tampa and for the Zion Cemetery Project, Robles Park Village.
The monthly CGCAS Archaeology Lecture series is sponsored by the Alliance for Weedon Island Archaeological Research and Education (AWIARE) and held at the Weedon Island Preserve Cultural and Natural History Center in St Petersburg. All talks are free and open to the public.
When placing events on your calendar using these buttons, please check that time zone displays correctly.