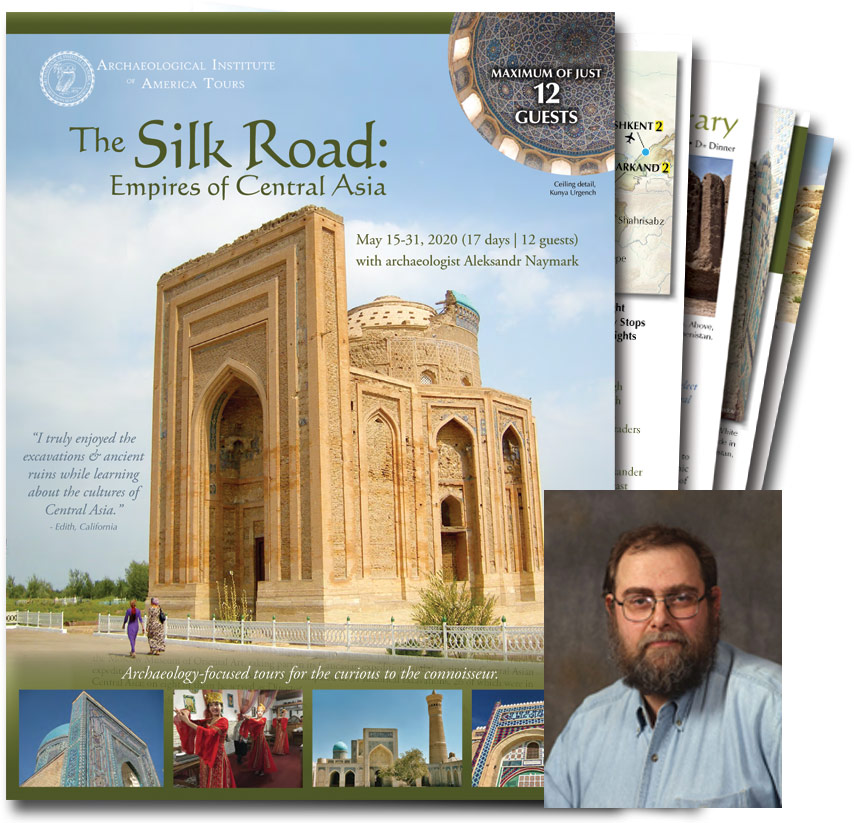 This tour has been cancelled for 2020 and is in the planning stages for the 2021 departure. If you are interested in traveling to this region and would like to be contacted when this tour becomes available, please call 800-748-6262 or email aia@studytours.org.
Itinerary, lecturer and dates are subject to change.
Retrace the fabled Silk Road through Uzbekistan and Turkmenistan with archaeologist Aleksandr Naymark, following in the footsteps of silk traders who left China as early as 200 B.C. in great camel caravans for the 5,000-mile trek to the Mediterranean. This was also the road of Alexander the Great and Marco Polo, extending across vast deserts, mountains, and plains. Visit eight UNESCO World Heritage sites: Turkmenistan's Merv, Nisa, and Kunya Urgench; and Uzbekistan's old Khiva (Itchan Kala), Desert Castles of Ancient Khorezm (Ellik Kala), Bukhara, Shahrisabz, and Samarkand. Explore the archaeological sites of Anau, inhabited from the Neolithic through medieval periods; the ancient Zoroastrian center of Gonur-Depe; and Paikent, whose fortress walls date back to the 9th century B.C. Discover fascinating museum collections, stroll through old town shops and bazaars, enjoy performances of traditional music and dance, and admire stunning religious monuments and artifacts, such as the partially-preserved Uthman Koran (written on deerskin in the 7th century), considered by Sunni Muslims to be the world's oldest Koran. Minimum of just 12 guests.
"I truly enjoyed the excavations & ancient ruins while learning about the cultures of Central Asia." – Edith, California