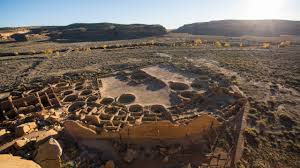 W. H. "Chip" Wills will discuss the ongoing exploration of UNM researchers at Chaco Canyon National Historical Park. Professor Wills has first-hand experience of several decades of the history. He began working in Chaco Canyo as a UNM undergraduate in the 1970'; held a post doctoral fellowship at the Smithsonian examining Chaco collections made in the 1920's; and for 15 years he has co-directed new fieldwork in the canyon examining social complexity, land use, and regional and long-distance exchange, among other research questions. Wills' encyclopedic knowledge of Chaco archaeology and UNM's involvement in it are sure to educate and entertain.
W. H. Wills is a Professor of Anthropology in Archaeology at the UNM and Director, Chaco Canyon Archaeological Research Lab; Interim Curator of Archaeology, Maxwell Museum of Anthropology
When placing events on your calendar using these buttons, please check that time zone displays correctly.