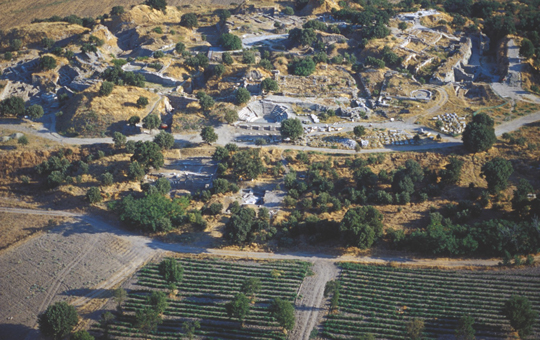 Unpacking the Stories of Troy and Homer
Four Thursdays: January 7, 14, 21, and 28
6:30 pm – 8:00 pm
With Dr. C. Brian Rose
In this four-part series, learn about the archaeology of Troy and the Trojan War, including the ways in which both the site and war have been viewed throughout history. Troy is located in northwestern Turkey, at one of the easiest crossing points between Europe and Asia. Consequently, Troy has been a contested region between east and west for the last 3,000 years. Contemporary discussion of war, as well as art and literature about modern conflicts, regularly reference the Trojan War.
Review the Trojan War's archaeological evidence and contemplate how armed conflict in and around Troy in the late second millennium BCE influenced the war stories chronicled in Homer's Iliad. Consider how the physical landscape around Troy has affected participants in more recent struggles, such as World War I, during which soldiers at Gallipoli were fighting in the same terrain as Homer's fictional heroes. In addition, draw parallels between defeated Trojans and current refugees from Syria who line the same coasts. End with a greater appreciation of the deep legacy of this city, as evidenced by fragments left behind by its past occupants.
C. Brian Rose (B.A., Haverford College; M. A., Ph.D., Columbia University) is the Ferry Curator-in-Charge of the Mediterranean Section and James B. Pritchard Professor of Mediterranean Archaeology. Since 1988 he has been Head of Post-Bronze Age excavations at Troy, and between 2004 and 2007 he directed a survey project in the Granicus River Valley that focused on recording and mapping the Graeco-Persian tombs that dominate the area. He has directed the Gordion Excavation Project in central Turkey since 2013. His research has concentrated on the political and artistic relationship between Rome and the provinces (Dynastic Commemoration and Imperial Portraiture in the Julio-Claudian Period, Cambridge, 1997) and on the monuments of Troy during the Classical periods (The Archaeology of Greek and Roman Troy, Cambridge, 2014). He served as president of the Archaeological Institute of America (AIA) between 2007 and 2011, and received the AIA's Gold Medal in 2015. He has been a Trustee of the American Academy in Rome since 2001 and currently serves as Chair of the Executive Committee of the Board of Trustees. His recent seminars have dealt with Roman topography, the archaeology of Troy, Augustan Rome, and Hellenistic and Roman sculpture, architecture, and coinage. He also curated the Penn Museum's special exhibition The Golden Age of King Midas (2016), featuring artifacts from Gordion through a special loan agreement with the Republic of Turkey.
$175; $125 Penn Museum Member
When placing events on your calendar using these buttons, please check that time zone displays correctly.