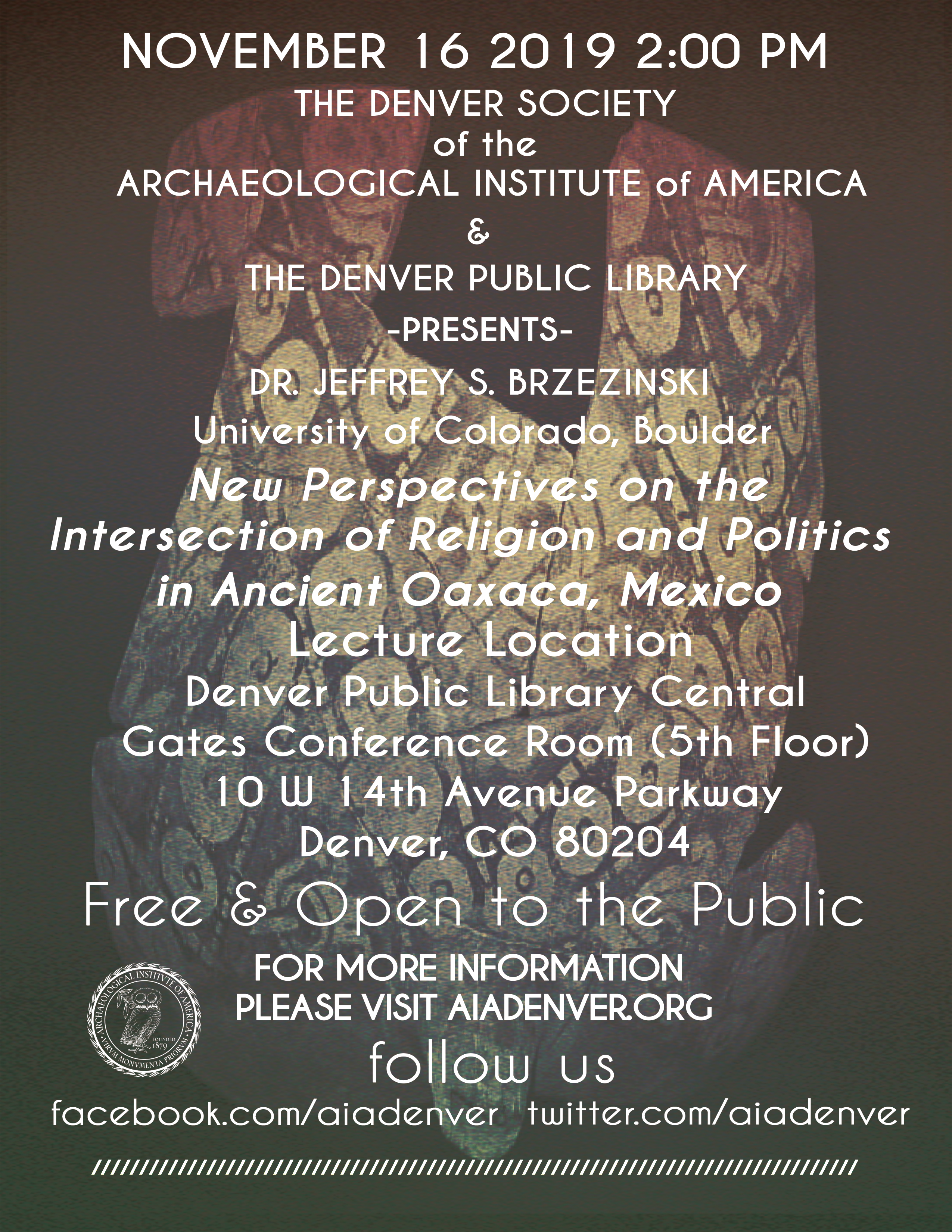 Lecturer: Jeffrey S. Brzezinski, PhD, University of Colorado, Boulder
Abstract: The end of the Formative Period (1800 BCE – 250 CE) in Mesoamerica witnessed significant changes in the social and political organization of many of the region is complex societies. Archaeological research has documented shifting patterns in interregional interaction, particularly through the trade of goods and ideas, as well as the development of social inequality and institutionalized political authority. Traditional models of social and political organization have maintained that the economic practices of leaders and elites, mediated through technology and access to valuable raw materials and "prestige goods", were the fundamental means by which hierarchical societies developed and changed. Though religious beliefs and cosmology have been shown to be intimately connected to institutions of state control, these social phenomena have been theorized as being imposed by elites as a form of ideology. The emphasis on leaders primary role in religion has limited consideration of the ways in which other collectivities (e.g., commoners, outlying communities, cults, etc.) with divergent religious practices may have negotiated and even contested the authority of political leaders.
This talk discusses the fundamental role of religion in the social and political development of the early complex societies of Oaxaca, Mexico. In some instances, such as the rise of the Monte Alban state in the Valley of Oaxaca, religious practices led to new political innovations that cemented authority in the hands of leaders for centuries. Other examples, including the fragmented "city-states" of the Mixteca Alta and the nascent Rio Viejo polity on the Pacific coast, demonstrate that religion may have prevented the degree of integration necessary for stable, centralized polities to emerge. In each case study, Jeff discusses the archaeological evidence for political negotiations, mediated through religious practice and belief, that occurred between people of various levels of power. Jeff's recent dissertation research on the coast of Oaxaca has also shown that diversity in religious practices among communities in the lower Rio Verde Valley during the Terminal Formative period (150 BCE – 250 CE) led to stronger affiliations to local communities, which may have caused the Rio Viejo polity to collapse at 250 CE.
Bio: Jeffrey S. Brzezinski is an adjunct professor of anthropology at the University of Colorado Boulder. He specializes in the development and organization of early complex polities in Oaxaca, Mexico. His dissertation research focused on political integration in the lower Rio Verde Valley during the later Formative period, from the perspective of the hinterland site of Cerro de la Virgen.
When placing events on your calendar using these buttons, please check that time zone displays correctly.