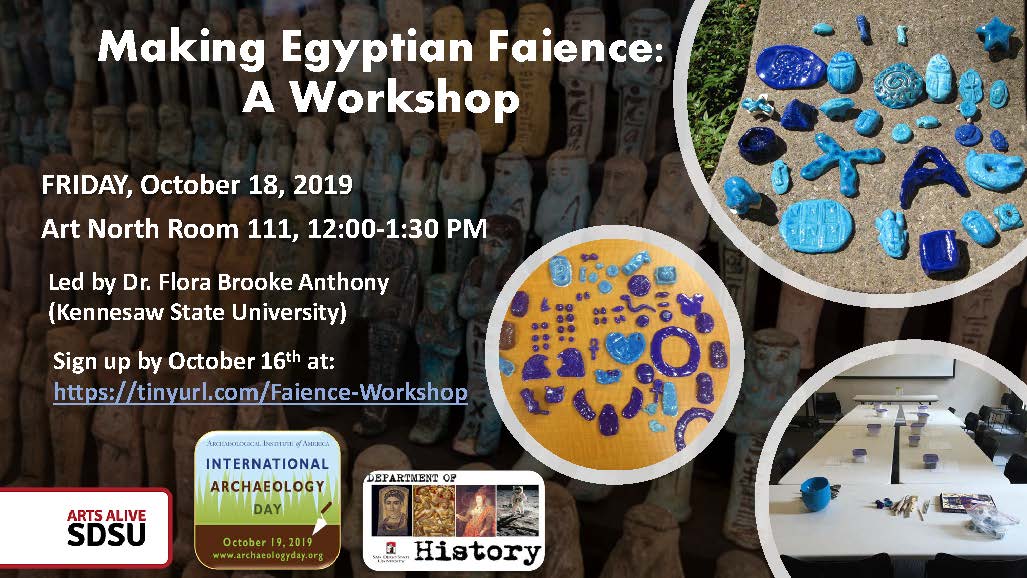 In this International Archaeology Day event, you can make your own faience under the direction of Dr. Flora Brooke Anthony (Kennesaw State University)! The workshop will be held on Friday, October 18th in Arts North Room 111 between 12-1:30 pm. Sign up at: https://tinyurl.com/Faience-Workshop.
Later that evening, Dr. Anthony will lecture on "The Greatest Sorcerer of Ancient Egypt and his Mysterious Funerary Figurines: The Shabtis of Khamwaset." You can find more information on our website: https://tinyurl.com/SanDiegoAIA.
Ancient Egyptian Faience was the first man-made material. Having qualities like both glass and ceramics, it was produced because of its beautiful luster and color. The shiny coating of the finished faience products were both desired and appreciated by the ancient Egyptians. In fact, the name in Egyptian for this substance is tjehnet which is defined as either "shining" or dazzling" and is also the word used to describe light from the celestial bodies.
Faience is made out of materials found in the Ancient Egyptian environment such as sand, natron (a type of salt), plant ash and colorants. When these components are mixed together, made into a form and left to dry, the salts and colorants migrate to the surface of the object. When fired they fuse and self-glaze. This transformation from a mixture of sand and other basic materials into a substance that looked like turquoise or lapis lazuli was truly spectacular to the ancient Egyptians. So much so that the material of faience was imbued with symbolism associated with life, rebirth, and immortality.
When placing events on your calendar using these buttons, please check that time zone displays correctly.