VIRTUAL - Monument and Mystery on the Roman Frontier: The Tropaeum Traiani of Adamklissi
January 26, 2021

Eastern Time
This is an online event.
Sponsored by: Archaeological Institute of America
---
The Tropaeum Traiani — a monumental Roman trophy dedicated by Trajan on the edge of the empire in modern Adamclisi, Romania — can be numbered among the most controversial monuments of the Roman world. Since its first systematic publication in the 19th c., debates have raged especially fiercely over the meaning of its military reliefs, which were carved in a representational and schematic style more typical of Late Antique than High Imperial art. This lecture introduces the enigmatic monument and the many debates it has inspired. Contextualizing the trophy with its closest relative, the Column of Trajan in Rome, as well as with earlier and later Roman victory monuments, I argue that its style is not an outlier for the period; rather, it is the first in a larger series of military-themed works to utilize a schematic style. The style would grow in popularity through the wars of the second and third centuries to become standard in Late Roman and Byzantine Art. I also propose novel directions for considering the trophy's location and intended audience, examining its scenes not as warnings to an unruly population, as has been the traditional interpretation, but as messages of hope for Trajan's new provinces.
Short bibliography and/or website on lecture topic:
Cooley, A. 2012. "Commemorating the War Dead of the Roman World." In Cultures of Commemoration: War Memorials, Ancient and Modern, edited by P. Low, G. Oliver, and P.J. Rhodes, 61-86. Oxford: Oxford University Press.
Ferris, I. 2003. "The Hanged Men Dance: Barbarians in Trajanic Art. In Roman Imperialism and Provincial Art, edited by S. Scott and J. Webster, 53-68. Cambridge: Cambridge University Press.
Poulter, A. G. 1986. "The Lower Moesian Limes and the Dacian Wars of Trajan." Studien zu den Militärgrenzen Roms 3: 519-528.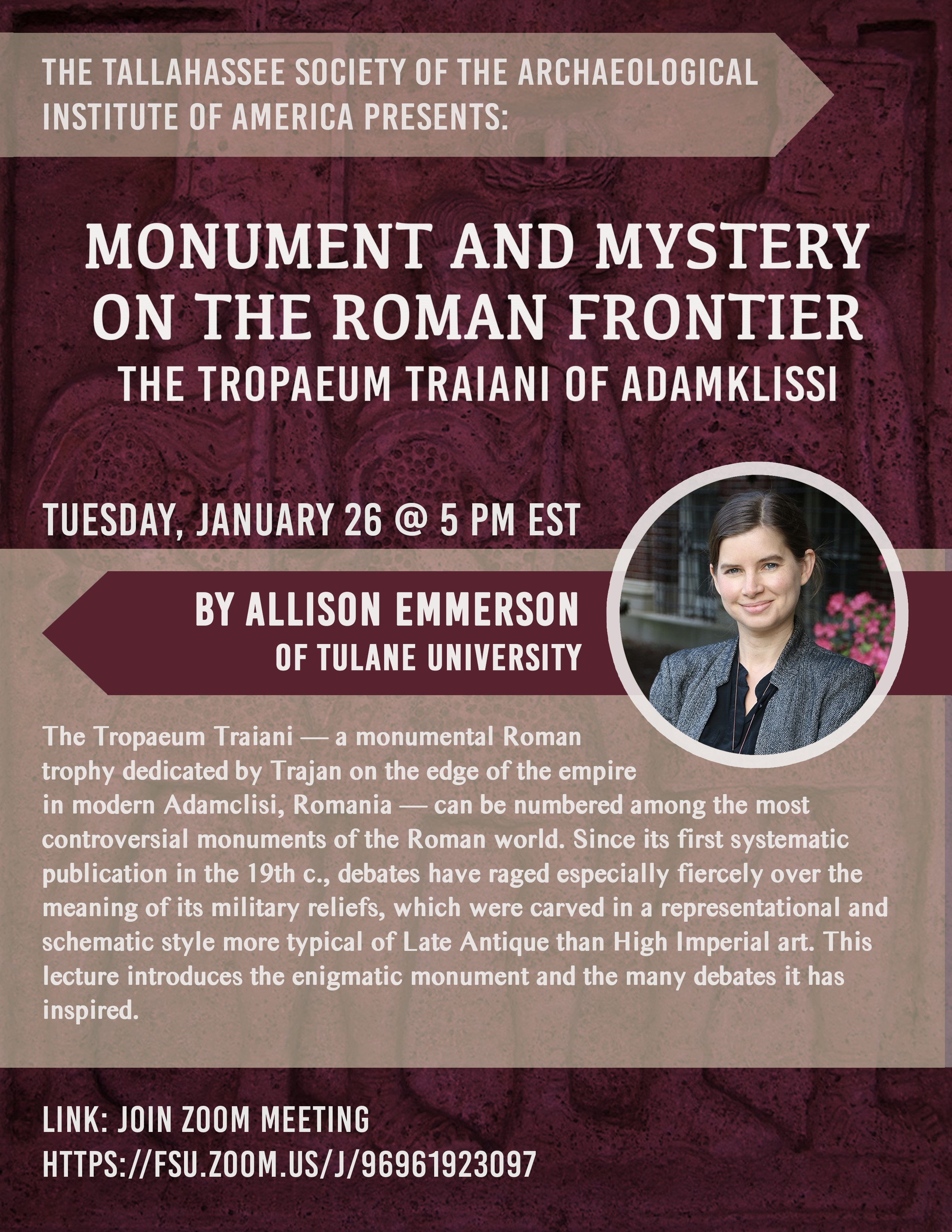 Oliver Lecture
Co-sponsored by the Department of Classics FSU
Join Lecture
When placing events on your calendar using these buttons, please check that time zone displays correctly.