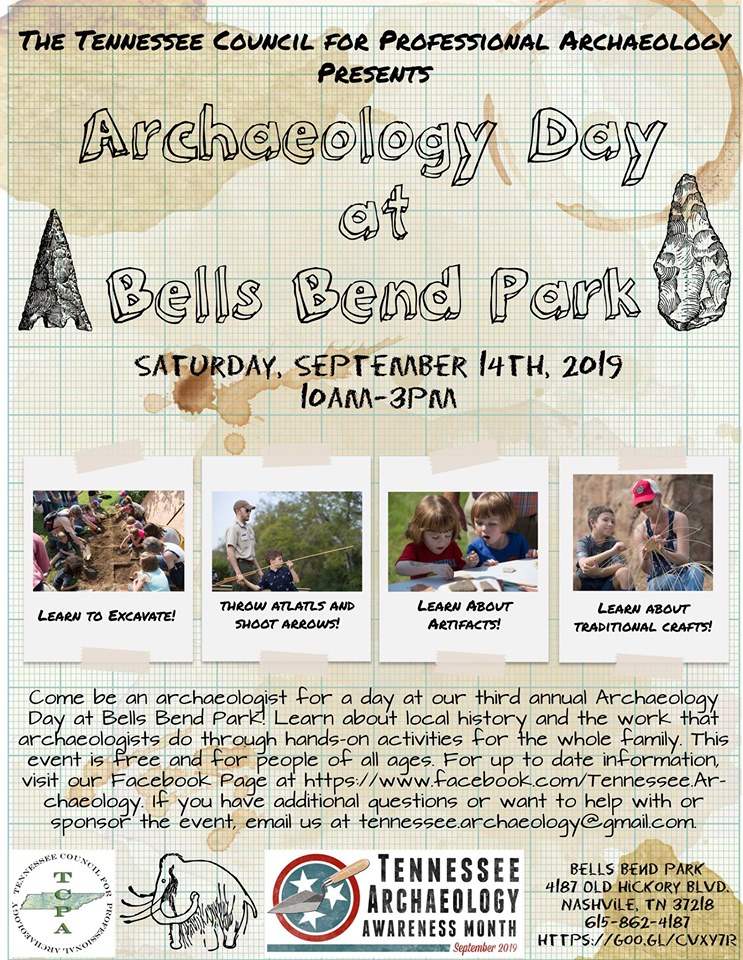 The Tennessee Council for Professional Archaeology is back with the third annual Tennessee Archaeology Day event! Come on out to Bells Bend Park in Nashville, TN, on September 14th to celebrate and learn about the archaeology and history of Tennessee. This event is FREE and open to everyone.
We'll have a variety of activities that will be fun for the whole family and that cover a range of topics related to the history and archaeology of Tennessee. If you've been to Archaeology Day before, you'll want to come out again this year because we've got some exciting new tricks up our sleeves along with some of the crowd favorites, like the mock excavation and atl atl throwing!
Participating organizations & activities include:
-AIA-Nashville Society & the Parthenon in Nashville: Build a Parthenon
-Tennessee Agricultural Museum: Make a Yarn Doll
-Barry Stewart Mann: Storytelling
-New South Associates, Inc.: Basketweaving
-TRC Companies, Inc.: Mock excavation
-Dunbar Cave State Park: Cave Art
-Old Stone Fort State Archaeological Park: Atl atl spear-throwing
-Cordell Hull Birthplace State Historic Park: Historic children's games
-Red Clay State Historic Park: Cherokee weapons demonstration
-Michael Miller & flintknappers.com: Stone tool production techniques & demonstration
More specifics will be announced as we continue to plan so keep an eye on the Archaeology Day 2019 Facebook page for updates. If you have additional questions or wish to volunteer at or help sponsor the event, please message us on Facebook or email tennessee.archaeology@gmail.com.
When placing events on your calendar using these buttons, please check that time zone displays correctly.