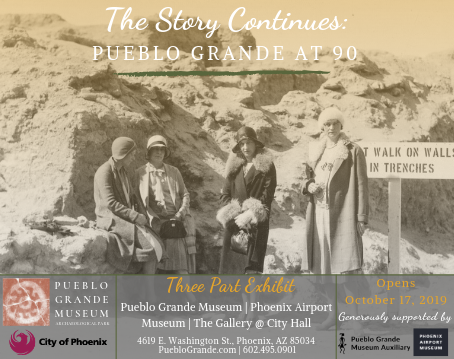 Celebrate Pueblo Grande Museum's 90th Anniversary, The Story Continues: Pueblo Grande at 90, with a special "first look" evening event on October 17 from 7 p.m. to 9 p.m. at Pueblo Grande Museum. Discover Phoenix's rich history and the diverse community of visionaries that expanded archaeological exploration and historical knowledge. Enjoy an archaeological presentation with Phoenix's former City Archaeologist Todd Bostwick at 7:15 p.m. Walk in the footprints of those who came before us by experiencing both prehistoric and modern stories of life in the southwest. With your help, the story continues.
Visit the Three-Part Exhibit
Explore three exhibits at the Pueblo Grande Museum, the Phoenix Airport Museum, and The Gallery @ City Hall. Each gallery will highlight historical themes and artifacts from pottery to archaeological tools. The galleries will open to the public on October 18, 2019 for all three locations. Visit pueblogrande.com for more information about the exhibit.
When placing events on your calendar using these buttons, please check that time zone displays correctly.