Voyage on the Black Sea
---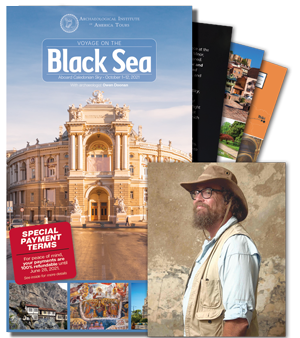 Legendary Jason and the Argonauts searched for the Golden Fleece at the end of the known world—the Black Sea, between Europe and Asia Minor,along whose shores the fortunes of ancient empires waxed and waned.
Join our fascinating Archaeological Institute of America lecturer and host, archaeologist Owen Doonan, and circumnavigate this fabled sea, discovering ancient civilizations, vibrant contemporary cultures, and beautiful landscapes. Cruise round-trip from Istanbul aboard the 57-cabin Caledonian Sky, visiting a variety of historic sites and cities, enjoying dance and music performances, and sampling delicious local cuisines. From the ports of Samsun, Trabzon, Batumi, Sochi, Odessa, and Varna, and via charter flight to Tbilisi, you will enjoy fascinating, included excursions. When we call at Samsun, you may choose between two included excursions, one of which is a special visit to the site where your AIA host has directed the Sinop Regional Archaeological Project for more than 20 years.
As we circumnavigate this historic body of water, you will enjoy a series of onboard lectures by Professor Doonan and one or more other experts. They and local guides at each port of call will put this complex region into context, touching on the vastly different countries and cultures that have coexisted on the Black Sea's shores for millennia. And, to further enhance your experience, you may choose to extend your journey with a pre-trip stay in Istanbul.
The Caledonian Sky comfortably accommodates 92 guests, and AIA travelers are sharing this adventure with members of other organizations, so I encourage you to contact our office today at aia@studytours.org or (800) 748-6262 to reserve your preferred cabin.
When placing events on your calendar using these buttons, please check that time zone displays correctly.