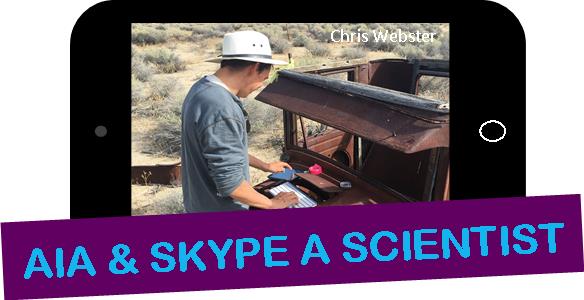 Interested in outreach to classrooms and groups, but don't know where to start? Try Skype a Scientist.

What is Skype a Scientist?
The Archaeological Institute of America encourages professional members to participate in Skype a Scientist. Skype a Scientist is a program that matches scientists with classrooms around the world. Scientists talk to students about their field and their work and answer students' questions.
Since it began in 2017, more than 7,000 scientists from all over the world in fields ranging from psychology to meteorology have been paired with over 14,000 classrooms. Participating in Skype a Scientist is a great way to engage with students, inspire young minds, and reach audiences that you may not be able to meet in person.
How does it work?
Sign up via an online form on the Skype a Scientist website. Use the form to describe what you study, provide your availability information, and choose to be matched up with between one and five classrooms over the course of the semester. You can provide some preferences, such as asking to be matched up with certain grade levels. You will then be added to the Scientist Search Tool for teachers. Teachers fill out a form to indicate what they are interested in along with their class schedules, and once Skype a Scientist identifies a match, they will email you. You then work with the teacher to schedule a session. Sessions take place over Skype or whichever video chat platform that works best for you and the teacher.
How can I get involved?
Before the semester starts, a sign-up form will be available on the Skype a Scientist website. Complete the form, and be sure that when they ask if you are part of an academic society that is participating as a group, you respond with "Archaeological Institute of America."
Tip: The form will ask, "What specifically do you study (in 5 words or fewer)?" You're more likely to be matched with a classroom if you give a broad and easy to understand answer (i.e. "ancient diets, environment, and migration" rather than "early Holocene bivalve sclerochronology."). Remember that you'll be speaking with folks outside of your specialty, who are also younger than you; the less jargon you use, the better.