A Voyage from Athens to Southern Italy & Sicily
Next spring explore splendid ancient sites in Greece, southern Italy, and Sicily with our acclaimed and engaging AIA lecturer and host Kathleen Lynch. Travel with Kathleen aboard the Callisto, which is akin to a private yacht rather than a cruise ship and accommodates only 34 guests. This purpose-crafted sea journey explores ancient cities and sites in Greece and Italy that share a common history going back almost 3,000 years. Southern Italy and Sicily were known in antiquity as Magna Graecia ("Greater Greece") because of the large number of cities founded by Greeks starting in the 8th century B.C. In all, 22 major settlements were established, some of them evolving into prominent centers of culture, learning, and commerce. The monuments that have survived in these places through the centuries speak eloquently of the power and wealth they attained.
After exploring Athens' fabled monuments, we embark our 17-cabin yacht and follow the route of the ancient Greeks on their westward expansion. Stops include the quaint port town of Gytheion in the southern Peloponnese, our gateway to Sparta, famed in antiquity for its military power, and Mistra, perhaps Greece's most important and evocative Byzantine site; Olympia, where athletes from the entire Greek world gathered for the Panhellenic games, which were held for 1,000 years from 776 B.C. to A.D. 393; Crotone, where Pythagoras established his school of philosophy; Syracuse, one of the most powerful cities of the ancient world; Reggio di Calabria where, in the National Museum, we will stand in awe before the celebrated Riace Bronzes, masterpieces of ancient Greek sculpture; magnificent Paestum, originally called Poseidonia, home to several of the best-preserved Greek temples; Segesta, where on a hilltop above a ravine stands the perfectly-preserved, 5th-century B.C. Doric temple; and Erice, once a center for the cult of Venus, now one of Italy's most spectacular hill towns.
Spring is the preferred time of the year to visit the ancient sites in these legendary lands, when they as well as the countryside are surrounded by a cornucopia of colorful wildflowers. I hope you will join Professor Lynch on this journey that reveals the continuity of culture from the ancient past to more recent times. Since Callisto has only 17 cabins and this program is co-sponsored, I encourage you to contact our office today at aia@studytours.org or (800) 748-6262 to reserve your preferred cabin.
The Callisto (17-cabin small-ship)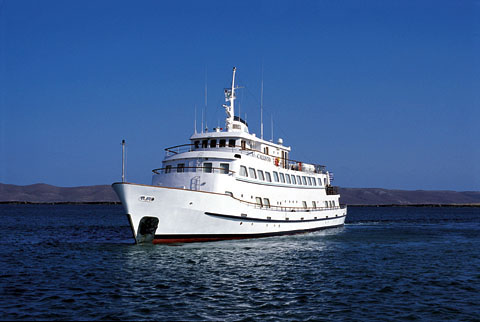 In an era of mega cruise ships that carry thousands of passengers, Callisto is a delightful alternative. More like a private yacht than a cruise ship, Callisto accommodates a maximum of just 34 guests in 17 cabins that face outside. Unlike the formalities found on larger cruise ships, a relaxed and informal atmosphere prevails aboard. A well-trained English-speaking crew of 18 manages the ship and provides friendly and efficient service. The dining room, surrounded by large windows, accommodates all guests at one unassigned seating, while the adjoining lounge, which is also lined with windows, is a good place to meet and socialize with fellow travelers, and attend lectures. When the weather permits, several meals will be served al fresco. A library faces the spacious Sun Deck.
Tour Prices per person
Tour prices start at $8,990 double occupancy, limited cabins available for single occupancy at a supplement of 150% of the per person double occupancy rate. For more information on pricing and other details, download the complete brochure.
To reserve your space using the online form, click here.
For reservations or questions, please email us at aia@studytours.org (and include your full name) or call us toll-free at (800) 748-6262 (toll: 603-756-2884).