Now offering Private Departures featuring the same meticulous attention to detail that you would expect with any of our tours, while allowing you to choose your companions and your travel dates.
Make the most of your vacation time with arranged and guided excursions to archaeological sites and museums, and with orientation walks near your hotels.
Each itinerary includes extensive site visits with your own expert guide plus a private driver.
Several afternoons are free for you to relax at our hand-picked, 4- and 5-star hotels, all perfectly located for independent exploration.
Or, during this free time, you may choose one of our guided optional excursions.
Included meals are of the highest quality and may be adjusted to your dining preferences and needs.
We can adjust the pace of your excursions to be as energetic as you prefer.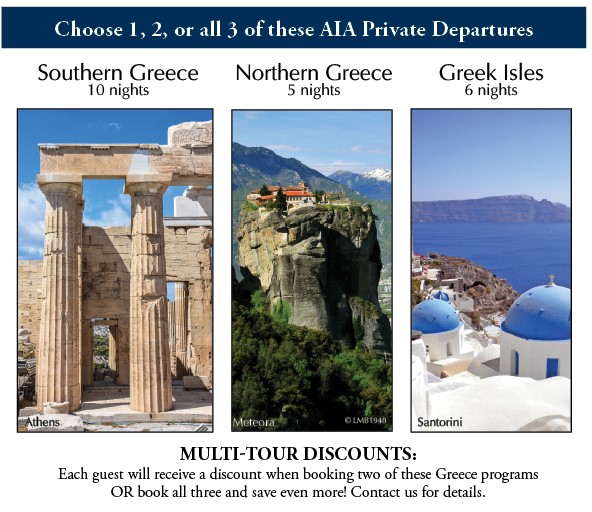 Choose 1, 2 or all 3 Greece Private Departure Tours.
Southern Greece (10 nights) – Athens | Aegina | Epidaurus | Corinth | Mycenae | Olympia | Delphi
Mycenaeans & Classical Greeks
Experience the glories of Bronze Age and Classical Greece with 27 expertly-guided site visits, including six UNESCO World Heritage Sites, on this 10-night itinerary. The myths and stories of Homer and the Greek playwrights come alive amid the landscapes of the southern mainland and the Peloponnese Peninsula. This well-paced tour spends a total of five nights in Athens; two nights in the charming port town of Nafplion; one night in Olympia, home of the original Olympic Games; and two nights in the mountain resort town of Arachova, near the ancient oracle of Delphi.
---
Northern Greece (5 nights) – Meteora | Dion | Thessaloniki | Vergina | Pella
Macedonian Kings & Byzantine Monks
Enjoy 11 expertly-guided site visits, including three UNESCO World Heritage Sites, on this five-night itinerary. Spend two nights in Kalambaka exploring Meteora's spectacular landscape of Byzantine monasteries perched on rock columns. Discover Pella, the birthplace of Alexander the Great; Vergina, with splendid Macedonian tombs and a spectacular museum; and Dion, where Macedonian kings prayed to the gods at the foot of Mt. Olympus. Three nights in Thessaloniki include superb museums, Byzantine churches, and the grand seaside promenade
---
Greek Isles (6 nights) – Crete | Santorini | Mykonos | Delos
Minoans & Cycladians
Enjoy 13 expertly-guided site visits as you explore Crete and three Cycladic Islands on this six-night itinerary. Two nights on Crete allow you to explore Europe's first civilization, the Minoan, in this mythical land of Theseus and the Minotaur. Two nights on Santorini include a visit to Greece's "Pompeii," Akrotiri, a haunting excavation of a Bronze Age town buried by a massive volcanic eruption that created the stunning island vistas that you will admire. Two nights on Mykonos provide access to the UNESCO World Heritage Site of Delos and to the quintessential Greek Island lifestyle.
---
Multi-Tour Discounts: Each guest will receive a discount when booking two of these Greece programs OR book all three and save even more! Contact us for details.
Get a quote today!
Download the detailed brochure for more information on pricing. Included in the file is a quote request form, submit via email or mail when you download the brochure. OR Fill out the quote request online here.
---