September 1, 2009
2009 AIA-APA Minority Scholarship Winner: Manuel Andino – Classical Summer School Program
by Manuel Andino
---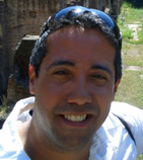 My time with the six-week Classical Summer School Program at the American Academy in Rome was a delightfully enriching experience that I will treasure forever. It was an honor to be among some of the brightest minds in Classics, from teachers to graduate students to full professors. The course was more than an in-depth focus on the archaeological, historical, and epigraphic world of the ancient Romans. It was also an opportunity to meet with other classicists with varied fields of interest, who helped enhance my understanding of the ancient Roman world. We began with the foundation of Rome and the Etruscan influence, visiting many sites such as the huts of Romulus, and places in Etruria. We learned of the various types of masonry employed in Roman construction, such as ashlar, tufa, and the multiple forms of marble. We trekked through all kinds of difficult terrain, with the hot sun blazing, yet we all woke up each morning with a surplus amount of energy excited to learn what new wonders were awaiting us.
As an introduction to the complex society of the Ancient Romans, I could not have asked for a more qualified Director and Assistant than Dr. Greg Bucher and Scott Craver. They both elevated my interest and fascination with the Roman world beyond what I could have imagined. Having had only a general knowledge of Roman history, and even less of its archaeological background, I was stimulated each day by the absorbing readings and the lectures of the leaders, and visiting Professors. Some guest-lecturers would spend an entire day with us going over many facets of the intricate details of a site or monument, such as Dr. Christine Clark, Dr. Eleanor Leach, Dr. Larissa Bonfante, and Dr. Joanne Spurza, who lectured on the enormous site of Ostia, while we were on the site. Often, I felt that I was in a dream, gazing upon sites that I knew well from photographs and diagrams. Yet, I never imagined that I would be facing them in all their majesty, such as the Pantheon, the Ara Pacis, the Colosseum, and the Arch of Constantine.
It was a thrill to be among a group of people who were always eager and ready at such an early hour every morning to explore and investigate a new site or museum every day. We would consistently be at the bus stop several minutes early in anticipation of visiting the Vatican for the first time, or knowing we were going to enter the Round Temple. Many times, we would discover the very morning of visiting a museum or site that we were being granted access to parts of a site or of a museum not normally open to the general public. Our tessera would seem to magically grant us access to these hidden spaces. It was a special treat to learn that some of these new places opened to us were not only a first for us, but a first for our two leaders as well.
Every couple of weeks we would have a practice autoptic exam in preparation for the final. The practice exams would consist of placing us in an unknown archaeological site, splitting us up into smaller groups assigned to various parts of the site, and called upon to decipher its mysteries. Given the knowledge we acquired from the lectures on other sites, we could understand how each room or space was utilized. For example, a large circular structure with seating was likely to be an amphitheatre, or a room with an underground heating system could be part of a bath, or pool. More often, there was very little left of the ancient construction for the untrained eye to glean enough information, so we would have to work with what we did know. If there is evidence of marble tiling we could assess the room to be used as an imperial space.
For the final we had to work on our own. We were asked to draw a diagram of the site and give our best guess as to how each room or space was used, and constructed. Needless to say, that was my favorite part of the entire experience. I understood very quickly the plight of any archaeologist, who stumbles upon an unknown site and has to construct as much of a story as possible, to explain what the evidence available could mean.
I am honored to have been the recipient of the Minority Summer Fellowship of 2009, and am grateful to the Officers and Directors of the American Philological Association and the Archaeological Institute of America for having awarded me with the opportunity to make my first experience in Europe a veritable romance with the Ancient Roman world. A special thanks to Dr. Tamara Green, and Dr. Ronnie Ancona at Hunter College-CUNY, who always inspire me with the desire to improve my knowledge of Classical Studies and Language.