September 2, 2009
2009 Field School Scholarship Winner: Eric Mentges – Isthmia, Greece
by Eric Mentges
---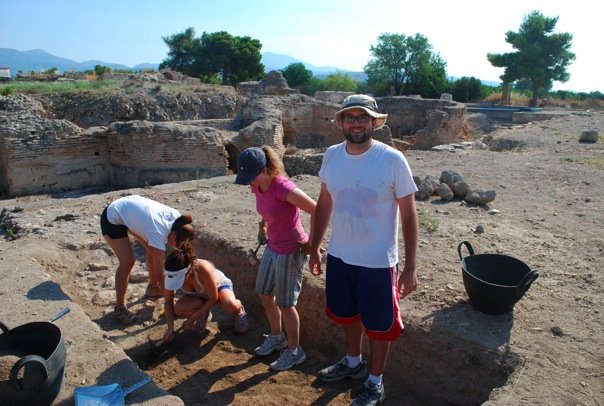 The four weeks I spent participating in the excavations at Isthmia was one of the most enriching experiences I've ever had. Having the opportunity to explore such a famous and important site of classical antiquity was something for which I am very grateful. Each day, whether I was baking in the searing Mediterranean heat while preparing a scarp to be illustrated, or washing the latest pottery to be discovered, I felt I was contributing in an important and valuable manner to the understanding of the ancient sanctuary. I worked and learned under the guidance of site director Timothy Gregory (Ohio State University) and field director Jon Frey (Michigan State University).
As one of a few more than 30 undergraduate students from Ohio State University, I was placed into one of six teams, each led by a graduate student, and given a different task to undertake every two days. Some days I was inside the dig house contributing to the preservation effort by scanning old excavation notebooks and film negatives; while on others I was in the field working to connect the loads of information present around the site and come to a fuller understanding of the sanctuary by clearing previously dug trenches. Preservation was a key goal for this season as we continued the work of past teams and moved many artifacts from their crumbling cardboard boxes to more secure plastic tubs, thus ensuring that the wonderful finds gathered over the years will not be lost. However, not only were we concerned with preserving the past discoveries at Isthmia, but we also made strides in acquiring new information. A project in its initial stages now is using GPS technology to map out the large site. By doing so, the hope is to obtain an extremely accurate representation of the sanctuary and use this knowledge to answer many lingering questions.
Having never participated in any kind of excavation before, I knew very little of what to expect at an active archaeological site. While the days out in the field were demanding, the rewards for the hard work were well worth it. Whether it was learning how to identify pottery or how to use a level, I gladly soaked it all in. During the first week of the field season, I had the valuable opportunity to clear off and examine part of the Byzantine Hexamilion wall. In the process I was able to discuss theories about the structure with both a graduate student and Dr. Frey. The enthusiasm with which the latter explained different aspects of the structure was addictive, and I soon found myself bouncing ideas off of him and asking question after question. While others may have scoffed at clearing weeds while the dust and dirt stuck to our sweaty clothes and skin, I was eager to continue removing the debris and see what we would find next. From that day on, I was hooked.
We stayed in the nearby village of Ancient Korinth at two family-run hotels and had homemade Greek food every weekday night. Being immersed in the small community of Ancient Korinth allowed me to gain an insight into modern Greek culture as well. Though I'd spend most of my morning and afternoon with my American peers, by walking through the plateia at night and hearing nothing but Greek language and music I gained an appreciation for the culture as well. Many of my fellow students, and myself on occasion, even took part in the cherished Greek tradition of the siesta after a particularly demanding day.
I was also able to visit the archaeological sites of Korinth, Sparta, Mystra, Mycenae, Olympia, and Nemea. It was especially beneficial to visit the last two sites and examine how these Panhellenic game centers looked and operated compared to Isthmia. Back at the site itself, I was required to learn how to identify pottery sherds and also submit a detailed report on a previously excavated trench. All of the trench reports prepared will be available to future scholars, producing a rich databank archaeologists and others to draw on. Overall, I look back at my time in Isthmia with many fond memories, while simultaneously eagerly anticipating the opportunity for future digs. I have been looking for my niche in classical studies for a while now and I believe I have finally found it in archaeology. I wish to thank the AIA for their financial assistance through the Jane C. Waldbaum Archaeological Field School Scholarship, which covered a substantial portion of my costs and allowed me to have this wonderful and important experience at Isthmia.