August 26, 2013
2013 Cotsen Grant Winner: Thomas Strasser – Damnoni, Crete
by Thomas F. Strasser, Department of Art and Art History, Providence College
---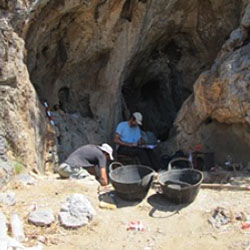 The excavation of the Mesolithic site at Damnoni, southwest Crete, exceeded expectations.  The site is the first of its period excavated on Crete and represents a discovery of a new culture.  Excavations in 2011 revealed the stratigraphy of the site, with in situ Mesolithic stone tools.  The goals of the 2013 season were to learn the size of the site and to understand better the nature of the artifactual assemblage.  Both were accomplished.
The Cotsen Excavation Grant allowed me to train many students in lithics identification and excavation techniques.  Measurements, including the corners of trenches, elevations, and point plotting of special finds, were always conducted using an EDM to maintain accuracy.  Each trench was excavated using combined natural and artificial stratigraphy.  Across the site, three strata were identified, but excavators dug within the strata in 10 cm spits for greater control on artifact location.  We excavated 64 1 x 1 m. trenches and sieved all the soils.  In addition to dry sieving, 25% of all strata except topsoil was floated or "wet sieved."  These intensive excavation techniques enabled us to identify stone tools smaller than .05 cm and to find microliths through flotation.  The method can serve as a template for Mesolithic excavations across Crete.
Through these meticulous methods, we located two localized artifact densities, one directly in front of the cave and another approximately 30 m to its west.   Most important, we learned that the lithic materials are far more variable than what was discovered in 2011.  We found patinated honey-flint, as well as green and creamy flints whose sources will pose an interesting problem for future analyses.  Most surprising is the discovery of obsidian; nine piece in all, eight of which are tools.  We presume them to be Melian, but further analyses (including Obsidian Hydration Dating) will tell us much more. Though obsidian is known on other Mesolithic sites, it always represents a small minority of the materials.  Nevertheless, the numbers are not as low as at Damnoni.  This, along with the fact that eight of nine are tools, suggests no working of the obsidian on site, but a trade network that introduced them to this region.  Considering the remote location of the site, upcoming scientific analyses of the tools will shed much light on this Early Holocene trade network.  Our artifact assemblage and site density can guide future expectations about Mesolithic surface scatters elsewhere on the island.