March 12, 2019
2019 Photo Contest Winners
---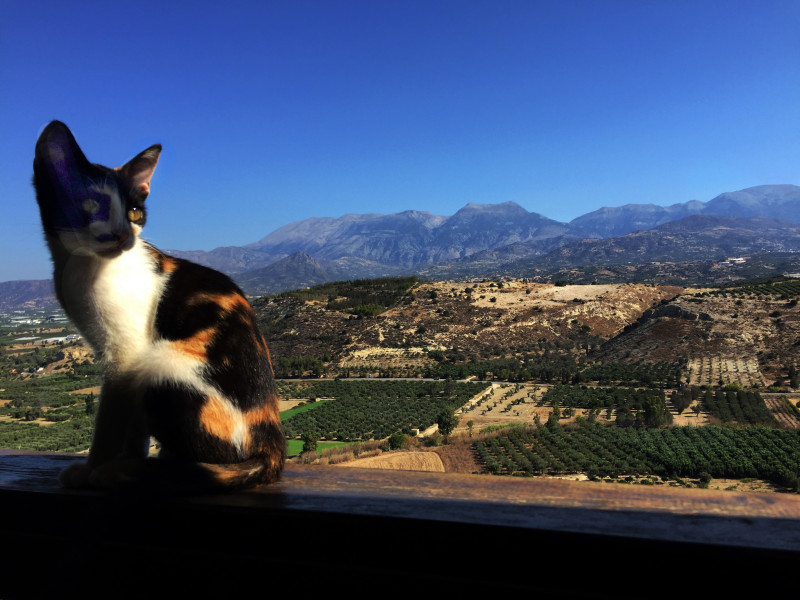 The AIA's Eighth Annual Photo Contest featured dozens of photos submitted of archaeological scenes from 20 countries around the globe.  Five categories—Archaeological Landscapes, Excavation, Field Life, Fun Finds, and Monuments—elicited images of stunning sites, breathtaking panoramas, archaeologists toiling away, and some of the lighter aspects of fieldwork and exploration.
Over the course of a week of voting, over 28,000 votes were cast.  This year's winners will receive a one year complimentary AIA membership.  Top photos selected by AIA staff will also be included in the AIA's 2020 Calendar.  This year's winners are:
Archaeological Landscapes

Cat contemplation on Mount Ida
Festos, Crete, Greece
By Alexia Giglio
Excavation

Wadi el-Hudi
Aswan, Egypt
By Kate Liszka
Field Life

Painting Ghosts
The Kephali, Sissi, Crete, Greece
By Gavin McGuire
Fun Finds
Winner: Ghostly Images of the Present Past
The Kephali, Sissi, Crete, Greece
By Gavin McGuire
Runner Up: Roman Mosaic—an ancient equivalent of a billboard advertising the Telegenii
Bardo Museum, Tunis, Tunisia
By Irwin H. Segel
The photographer shared this with us: The Latin inscription shown on my photo of a 3rd century Roman mosaic translates as: "The birds die of envy and the owl doesn't care about it." The Owl is a symbol of the Telegenii, a North African organization that supplied materials for local amphitheaters. The falling birds probably represent competing suppliers. To the uninitiated the mosaic may imply, "Keep your birds away from my fruit trees or my owl will get them". The mosaic was on display at the Bardo Museum in Tunis, Tunisia, where I photographed it.  You might want to heed this warning if you plan to start up a rival ampitheater supply company!
Monuments

Royal Residence of King Henry Christophe of the Kingdom of Hayti
Sans-Souci Palace, Milot, Nord, Haiti
By J. Cameron Monroe
Enjoy a trip around the world by viewing all of the photos submitted to the 2019 contest.