November 1, 2009
3rd Annual AIA-MOS Archaeology Fair
---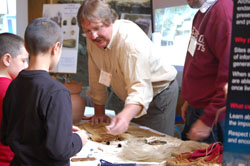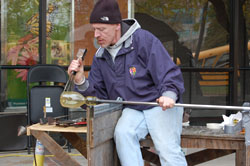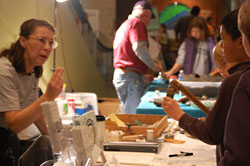 Archaeology was in the crisp, Boston air as the Archaeological Institute of America and the Boston Museum of Science hosted the 3rd Annual Archaeology Fair on October 16th and 17th. The fair, part of the programming for Massachusetts Archaeology Month, has been growing every year, thanks to the museums, institutions, and individuals who volunteer to share their knowledge and passion with the public.
Local school groups and visitors of all ages explored the past with archaeologists, museum specialists, and other experts. Hands-on activities included writing in cuneiform, digging in simulated excavations, exploring the depths of the "ocean" in an underwater excavation, seeing spear throwers, flint knappers and glass blowers in action, and much more! At the AIA booth, children learned about archaeological concepts such as stratigraphy and context, as well the importance of site preservation. This event, run by the AIA Outreach and Education Department, and sponsored for the past three years by the Massachusetts Humanities Foundation, is quickly becoming an annual tradition, enjoyed equally by presenters, visitors, volunteers, and everyone who loves archaeology!
The 2009 Fair was the largest and most successful yet. More than 20 different presenters exhibited activities such as simulated digs and underwater excavations, helped attendees make colonial era toys, use geophysical surveying equipment, write in ancient languages, count using the Maya numeric system, and identify and classify ancient artifacts. Live demonstrations were very popular and included flintknapping, atlatl spear throwing, and glass blowing. The AIA debuted two new activities–attendees learned about the importance of site preservation by making bumper stickers with pro-preservation messages and learned about the importance of archaeological context through a stratigraphy exercise.
The number of presenters was not the only thing that grew. More than 4,500 people enjoyed the hands-on archaeological activities presented at the Fair, making this the best attended event to date. "The Archaeology Fair has become such a staple to Archaeology Month, and it's great that we are reaching out to more kids and families every year. This program allows them to experience archeology in a fun and exciting way," says Deanna Baker, AIA Outreach and Education Coordinator. There is no doubt that this AIA tradition will continue to grow with the help of its partners at the Museum of Science and funding from the Massachusetts Humanities Foundation.
AIA Archaeology Fairs are held annually at the Museum of Science and in conjunction with the AIA Annual Meeting. And check with your local society for more outreach programs!
This event was sponsored in part by Mass Humanities.
Presenters:
Archaeological Institute of America
Site Preservation
Learn about the threats to archaeological sites and what we can do to stop them from being destroyed! Make your own bumper sticker to spread the word.
Boston Museum of Science
Stellwagen Bank National Marine Sanctuary
Shipwrecks of the Stellwagen Bank National Marine Sanctuary
Learn about maritime archaeology taking place off the coast of Massachusetts and try out a hands-on shipwreck mapping exercise.
Glimpse the archaeological world of the Strawbery Banke site and take part in a sand tray excavation.
Robert S. Peabody Museum of Archaeology
Pseudomorphs
Visitors will handle various objects in order to determine which ones are made by humans and which were shaped by nature.
American Textile History Museum
Textiles and Time
Learn about how textiles survive over time and see what you can discover by searching a "privy"! Visitors will be able to make their own Colonial era toy to take home.
Mass Archaeology Society/Robbins Museum
Clues to the Native American Past
Explore the ways archaeology has uncovered the vibrant histories and cultures of southeastern Native Americans through hands-on activities and a mini-dig.
Dig Magazine
Mosaic Magic and Write in Cuneiform
Create your own mosaic just like the Romans! Participants will also have the change to learn how to write in cuneiform.
Boston Children's Museum
Explore Colonial New England
Identify the Artifact: observe a handful of artifacts from the time of the American Revolution and match the item to its name and function.
Semitic Museum
Near Eastern Archaeology
Learn how archaeologists interpret pottery sherds found in excavation to determine which vessels they came from.
The Public Archaeology Laboratory, Inc.
Hands on History
PAL's interactive exercise will have you match real artifacts to their times and cultures.
Flintknapping: The Art and History of Stone Tools
Flintknapper, Joe Bagley, will give demonstrations throughout the day with several examples of techniques and artifacts.
Diablo Glass School
The Art of Glass Blowing
Vistors will learn the process of blowing glass and watch a live demonstration.
New Hampshire Archaeological Society and Project Archaeology
Project Archaeology: Classroom Activities
Project Archaeology will present educators and attendees with ideas on how archaeology can be brought into the classroom.
Board of Underwater Arch Resources
Underwater Archaeology
Visitors will be able to experience a simulation of blakwater diving, paricipate in a mock shipwreck dig, remotely search for sunken objects using a drop camera, and view some of the high-tech tools used by underwater archaeologists.
Franklin Pierce Anthropology Club
Atlatl Presentation
Visitors will experience a presentation on the history and use of the atlatl along with a demonstration of how atlatls are thrown.
Association for Gravestone Studies
Check out memorials from yesteryear. Then, design your own gravestone on a piece of slate, using the same methods as colonial Americans.
Institute of Archaeology and Antiquity, Visual and Spatial Technology Centre (VISTA), University of Birmingham, UK
Join PBS's Time Team America to see the different methods of geophysical survey used in archaeology! Experience how archaeologists can get an idea of what's underground without even picking up a shovel, with Ground Penetrating Radar. Next, head outside to use some of the systems and softwares to discover what is underneath the Museum's own backyard.