March 24, 2011
A Tribute to Donny George
---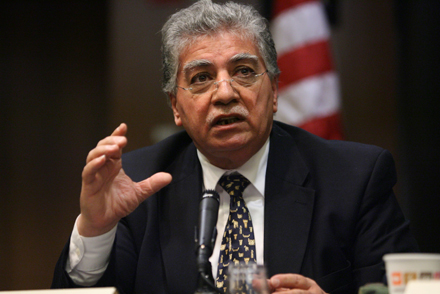 Dr. Donny George, the former General Director of the Iraq Museum in Baghdad, who did so much to defend its collections in the wake of the ouster of Saddam Hussein, died while visiting Toronto on March 11. Dr. George was widely credited for his tireless work in safeguarding Iraq's antiquities and for leading the effort to recover artifacts looted from the museum. Following death threats to himself and his family, he immigrated to the United States in 2007, where he received an appointment as Visiting Professor at Stony Brook University. He was a Lifetime Member of the Archaeological Institute of America and a popular speaker, serving as this year's Kershaw Lecturer. His most recent AIA presentations were at the Valparaiso and Kansas City Societies. Donny George was 61 years old.
AIA Past President Brian Rose says of Dr. George: "I first met Donny George in 2003, shortly after the Iraq Museum in Baghdad had been looted. The AIA was planning a colloquium on the protection of cultural property in Iraq and Afghanistan for the 2004 Annual Meeting in San Francisco, and we invited him to serve as a panelist. I had never spoken to him before, but he was unfailingly gracious when I reached him at his office in the Iraq Museum, and he offered to lecture for us wherever we wanted him to. The AIA worked closely with Donny George for the next eight years; he became one of the most popular speakers on the National Lecture Circuit and a tireless promoter of our Site Preservation Program. When I was organizing the Presidential Plenary Session ("Archaeology in a Global Context") for the 2011 Annual Meeting in San Antonio, Donny was the first speaker I considered. His talk, which was videotaped, dealt with the lessons that archaeologists have learned from the military conflict in Iraq, and we present it to you here. As you listen to it, you'll come to understand why Donny George was regarded as a hero by so many in the archaeological community."
See also "Learning from the Iraq Museum," a piece Dr. George recently wrote for the American Journal of Archaeology. It is available as a free PDF on the AJA website.