February 1, 2010
AIA 10th Annual Archaeology Fair
---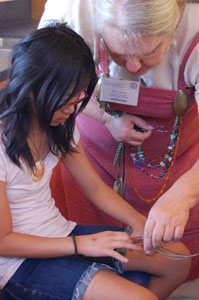 On January 9th and 10th the AIA celebrated archaeology on the west coast at our 10th Annual Archaeology Fair held this year at the Ocean Institute in Dana Point, California. For two days archaeology was the main attraction at this beautiful beach-side venue and the Fair was a huge hit with local school groups and families. Visitors to the Fair were greeted by revolutionary war era music, learned about Roman armor from a Roman legion, made ancient textiles with a Viking, and discovered the art of ancient spear throwing. The AIA used the opportunity to spread the word about site preservation by having students create bumper stickers to promote the cause. Flintknapping demonstrations were held throughout the day, and visitors were encouraged to identify 19th century artifacts, grind seeds and grain to make flour using Native American methods, and dig a virtual Roman site. Participants also donned lab coats to use chemical treatments to preserve replica ancient artifacts, and wielded a reed to write in cuneiform. Replicas of Native American shell jewelry and gold artifacts from Troy went home with many families as mementoes of their day of ancient adventures. The family-friendly activities informed over 2,500 people of all ages about archaeology.
Presenters (in alphabetical order):
Archaeological Institute of America
Context and Site Preservation
Learn about the threats to archaeological sites and what we can do to stop them from being destroyed! Make your own bumper sticker to spread the word.
Dig-it! Games
Play Roman Town!
Play Roman Town, the Premiere Archaeology Video Game for Kids! Have all the fun of a real archaeological excavation without getting your hands dirty!
Barbara Klessig
Textiles in Archaeology and History
Participate in textiles activities including spinning with a drop spindle and weaving on looms, and make your own cloth to take home!
Bowers Museum
Gold of Troy
Make your own replica of the embossed gold sheets found at the site of Troy, and keep your pendant to wear proudly!
Cotsen Institute or Archaeology, UCLA
Discovering the Ancient World
Dig and Calliope Magazine
Mosaics and Ancient Writing
Make your own mosaics just like the Romans and try your hand at writing in Cuneiform.
Franklin Pierce Anthropology Club
Hurling Ravens Atlatl Team
Watch as the Hurling Ravens use atlatls (ancient spear-throwers) to throw spears twice as far as people without an atlatl. Demonstrations are scheduled for both days in the Ocean Institute lot.
Getty Villa
Behind the Scenes at the Getty Villa
Get a backstage pass to the Getty Villa and explore the exciting world of conservation!  Experience how artifacts go from archaeological excavation to museum display, by using materials and equipment used by museum conservators!
Heritage Education Programs
Thinking like an Archaeologist
Use an assemblage of artifacts from the Tonopah mining district to find out what life was like 100 years ago.
James Winn
Flintknapping Demonstration
Watch a live flintknapping demonstration, and talk with stone tool expert Gary Pickett about how these tools have been used for millions of years!
Interact with a live Roman Legion!
Mountain Fife and Drum
Music of the American Revolution
Listen to the sounds of the American Revolution! Live demonstrations will be held every two hours! Speak with the musicians about their use of instruments similar to the ones that were used over 200 years ago.
Pacific Coast Archaeological Society
Archaeological Activities
Understand archaeology by participating in archaeological activities, such as jewelry making and food preparation. Learn how to identify artifacts and appreciate rock art.
San Diego Archaeological Center
Shell in the Archaeological Record
Shell is important in archaeology, and so is identifying species. Look at different shells found at archaeological sites, then make a clay impression of your favorite to take home!
Society of California Archaeology
California Archaeological Site Stewardship Program
Want to volunteer on an archaeological site? The CASSP can help! Also, learn about historic and prehistoric archaeology in the United States through an interactive display.