May 3, 2013
AIA at the 78th meeting of the Society for American Archaeology (SAA)
---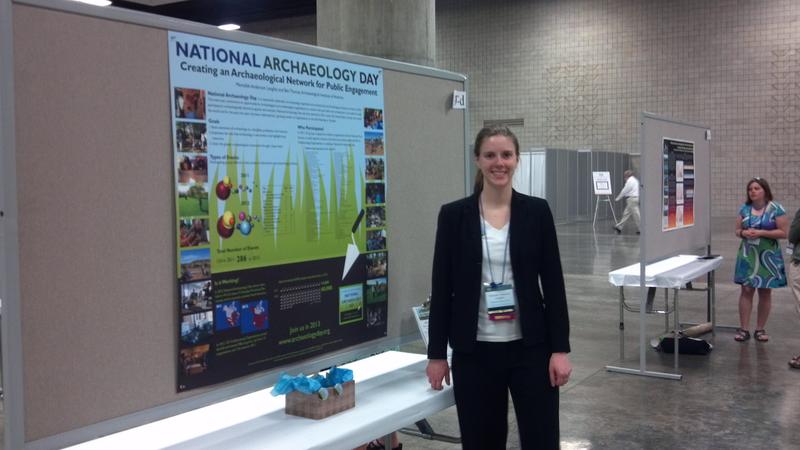 Over the last few years, the AIA and SAA have forged a strong working relationship that has led to several joint initiatives especially on advocacy issues. AIA participation in the SAA Annual Meeting has also grown steadily over the last few years. The 78th Annual SAA Meeting, April 3-7 2013, in Honolulu, Hawaii was an especially busy one for the AIA. Approximately 3,400 people attended the meeting that included roughly 2,800 papers presented in nearly 300 sessions.
As in past years, the Institute had a booth in the exhibit hall. Over 800 meeting attendees stopped by the booth to peruse AIA materials and talk to AIA representatives. Our presence in the exhibit hall is a wonderful opportunity to publicize the Institute's programs. Meeting attendees were especially interested in membership, grants and fellowships, and publications. We were also able to talk to visitors about International Archaeology Day and recruit groups to become Collaborating Organizations.
Meetings like this are a great time for the AIA to forge new relationships and enhance existing ones with like-minded organizations. At the meeting, First Vice President Andrew Moore participated in the Presidents' Breakfast and met with representatives of several archaeological organizations. Laurel Sparks, Lecture and Fellowship Coordinator, attended many of the nearly 300 sessions to listen to speakers and evaluate them for participation in the AIA Lecture Program.
Ben Thomas, Director of Programs and Meredith Langlitz, Senior Programs Coordinator presented a paper entitled "Mitigating the Impact of Archaeotourism on Archaeological Sites" in a session on "Managing, Mitigating, and Protecting the Past." The paper, which discussed the creation and dissemination of the AIA-ATTA Tourism Guidelines, drew a number of questions from audience members and several request for copies of the guidelines. The two also presented a poster entitled "National Archaeology Day: Creating an Archaeological Network for Public Engagement" in a poster session focused on "The Impact of Public Archaeology Programs: Evaluating Participant Responses and Feedback." Presenting papers about AIA Programs at professional meetings has increased participation in these programs and stimulates discussion that allows us to further refine our efforts. Additionally, AIA representatives serve on the SAA Public Education Committee and the International Government Affairs Committee.
As usual, it was a busy but extremely productive four days.