February 16, 2017
AIA Board Member Dr. Sarah Parcak Officially Launches GlobalXplorer
by KB
---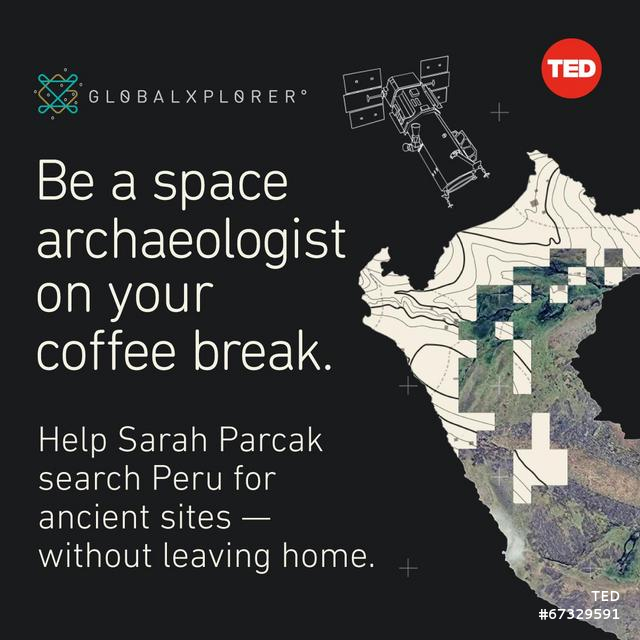 Dr. Sarah Parcak, a space archaeologist and AIA Board member, today officially launches GlobalXplorer: a citizen science and archaeology platform that's enlisting people around the world to discover sites unknown to modern archaeologists.
Dr. Parcak is the 2016 TED Prize winner, a National Geographic Fellow and professor at the University of Alabama at Birmingham. GlobalXplorer is the result of Dr. Parcak's TED Prize, which is granted each year to one exceptional individual, offering them $1 million and the resources of the TED community to create a world-changing project. Dr. Parcak wanted anyone with an Internet connection to "discover and protect the millions of unknown archaeological sites across the globe."
GlobalXplorer was built in collaboration with the TED Prize, National Geographic, satellite imagery and analytics firm DigitalGlobe, Inc. (NYSE: DGI), and platform developer Mondo Robot. While GlobalXplorer has ambitions to span the globe, it is launching in Peru, where Sustainable Preservation Initiative (SPI) will serve as the on-the-ground partner.
"The world's hidden heritage contains clues to humankind's collective resilience and creativity," explained Dr. Parcak. "It's up to all of us to protect this heritage, and with GlobalXplorer we are empowering a 21st century army of global explorers to discover and protect our shared history."
GlobalXplorer offers gamified discovery of archaeological sites previously unknown to most modern archaeologists, and users are rewarded for their valuable time. After signing in and taking a tutorial, users begin examining satellite images. The longer they spend on the site, the more rewards they collect: from rich content about Peru, to secret behind-the-scenes sneak peeks, to actual leveling up. Eventually, users have the opportunity to join archaeologists (virtually) for on-the-ground digs.