November 30, 2012
AIA Calendar to Support the Site Preservation Program
---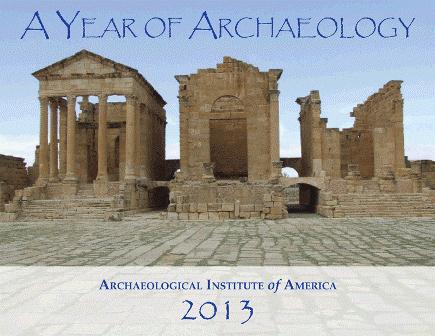 The AIA is pleased to present its A Year of Archaeology calendar! In 2013, explore a new archaeological site each month while helping to protect sites around the world. All proceeds from this calendar sale will benefit the AIA Site Preservation Program, which works to safeguard the world's archaeological heritage for future generations through direct preservation, raising awareness of threats to sites, education, and outreach, and by facilitating the spread of best practices. For more information on the AIA Site Preservation Program, visit our website.
Featuring photos from AIA Site Preservation-funded sites and the AIA's 2011 online Photo Contest, this calendar highlights archaeological sites from around the globe. Experience all aspects of a dig through images of excavations, ancient architecture, interesting finds, and field life.
The A Year of Archaeology calendar is a great gift idea for the upcoming holiday season.  Feel great that your gift will not only be useful all year long, but will also actively support threatened archaeological sites! Join the AIA in preserving the past by purchasing the calendar from our online store: www.archaeology.org/shop. 
Learn more about the Site Preservation Program.