September 24, 2010
AIA Members Standing Up for Greek Archaeology
by Peter Herdrich
---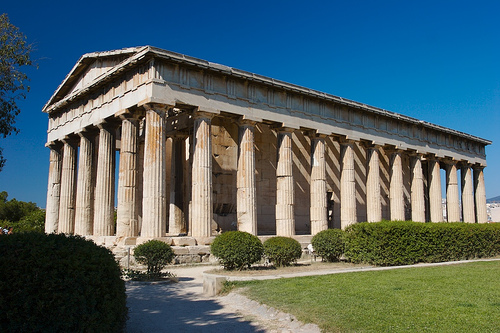 Midnight Thursday marked the end of the period during which the public could post opinions on the regulations.gov website about the proposed Memorandum of Understanding (MoU) between the United States and Greece on the imposition of import restrictions on archaeological and other materials from Greece. The Archaeological Institute of America strongly endorses the MoU. Hundreds of AIA members submitted letters to the State Department expressing their support for the MoU.
At the AIA we are proud that so many people contributed their opinions to this very important advocacy effort. Supporters lauded the effort to limit the trade in ancient cultural material between the US and Greece. The reasons the AIA is behind the effort are sincere and well-documented. We believe that this trade directly contributes to looting of archaeological sites along with other ills. All the comments go to the Cultural Protection Advisory Committee at the State Department. CPAC will make a recommendation on whether or not to endorse the MoU to the executive branch of the federal government.
The lines were strongly drawn between the AIA supporters urging that trade in antiquities promotes looting and must be stopped and coin collectors saying that their right to pursue their hobby as they wished was being trampled. Coins, found in their proper context, contribute much to archaeological and cultural understanding and Greece has every right to want to protect the artifacts within their boundaries.
As the CEO of the Archaeological Institute of America, I am thrilled that so many of you took the time to write about this important issue of national policy. I compliment each and every one of you who contributed to this effort. On October 12, CPAC will hold public hearings in Washington, DC on the MoU. Members of the AIA have already signed up to express how strongly we feel about this. Please contact Meredith Anderson Langlitz at mlanglitz@archaeological.org for more information.