January 26, 2017
AIA-Milwaukee Society Organizes April Event that Includes Neighboring Societies
---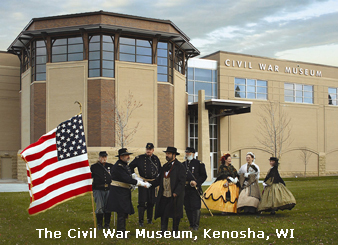 On Saturday, April 8, 2017 the AIA-Milwaukee Society is organizing the first-ever gathering of neighboring AIA local societies from the Midwest. The highlight of the day will feature visits to two museums in Kenosha, Wisconsin—the Kenosha Public Museum (home of the Hebior and Schaeffer mammoth remains) and the Civil War Museum of Kenosha. The two museums are next door to each other and occupy a lovely setting on Lake Michigan near downtown Kenosha. There will be an option to visit the nearby Dinosaur Discovery Museum as well. Lunch will be provided thanks to the generosity of Dave Adam, Milwaukee Society Member and General Trustee on the AIA's Governing Board. The lunch break will give the members of participating Societies a time to socialize and get to know each other.
AIA members and their families from the following local societies are cordially invited:
Wisconsin: Milwaukee, Appleton, Madison

Illinois: Rockford, Chicago, Western Illinois/Monmouth, Central Illinois/Urbana

Indiana: Valparaiso

Michigan: Western Michigan/Grand Rapids.
Click here for more information about the event and how to sign up.