May 23, 2012
AIA Names Sheila Dillon Editor-in-Chief of AJA
---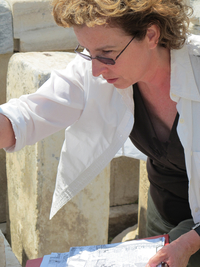 Elizabeth Bartman, President of the Archaeological Institute of America (AIA), announced that Sheila Dillon, Associate Professor of Art History/Classical Studies and Director of Undergraduate Studies at Duke University, has been named Editor-in-Chief of the prestigious American Journal of Archaeology (AJA), which is published by the AIA. Her appointment commences on July 1, 2013, when she will succeed current editor Naomi Norman.
"We are thrilled that Sheila will be joining the AIA in this vital role," said Bartman. "Having someone with her depth of experience in the field lead the AJA will ensure its place as a world-renowned academic journal. We are particularly impressed with her commitment to the AJA's digital initiatives, which will be informed by her current teaching and research initiative at Duke called Wired! Visualizing the Past."
Professor Dillon holds a B.A. in Art History from Rutgers, a M.A. in Art History and a Ph.D. in Classical Art and Archaeology from the Institute of Fine Arts, New York University. Her fields of research and teaching are Greek and Roman art. Her most recent book is entitled The Female Portrait Statue in the Greek World (Cambridge University Press, 2010; paperback, 2011), a project for which she received an NEH faculty fellowship. Her book Ancient Greek Portrait Sculpture: Contexts, Subjects, and Styles (Cambridge University Press, 2006; paperback, 2012) was awarded the James R. Wiseman Book Award from the Archaeological Institute of America in 2008. Professor Dillon was a member of the Aphrodisias excavations in Turkey from 1992-2004 and collaborated on the publication of the portrait sculpture in Roman Portrait Statuary from Aphrodisias (Philipp von Zabern, 2006). She has co-edited two volumes of essays: Representations of War in Ancient Rome with Katherine Welch (Cambridge University Press, 2006) and A Companion to Women in the Ancient World with Sharon L. James (Wiley-Blackwell, 2012). Currently, she is developing a project on death and the art of sculpture in Athens from the 5th century BCE to the 19th century CE, which will have a significant digital component.
Said Professor Dillon, "I am honored to have been selected to provide editorial leadership to the American Journal of Archaeology. I look forward to working with the AJA editorial board and staff to continue to publish articles that represent the best research being done in the field of archaeology."
The current Editor-in-Chief of American Journal of Archaeology is Naomi Norman. Dr. Norman is Associate Professor of Classics at the University of Georgia and serves as Director of the University of Georgia Excavations at Carthage (Tunisia). She holds her A.B. from Bryn Mawr College and the Ph.D. from the University of Michigan. She was also a fellow of the American School of Classical Studies in Athens and was named a Josiah Meigs Distinguished Teaching Professor in Classics at the University of Georgia. Her current projects include a book on the archaeology of Roman Carthage and the multi-volume, multi-author publication of the Carthage excavations.
The American Journal of Archaeology is one of the world's most distinguished peer-reviewed archaeological journals. Founded in 1885, it publishes groundbreaking articles on archaeology and book and museum exhibition reviews. The AJA reaches more than 50 countries and almost 1,000 universities, learned societies, departments of antiquities, and museums.