June 30, 2016
AIA-Southwest Texas Society Reaches 1,416 Students during 2015-16 School Year
by Whitney Lytle
---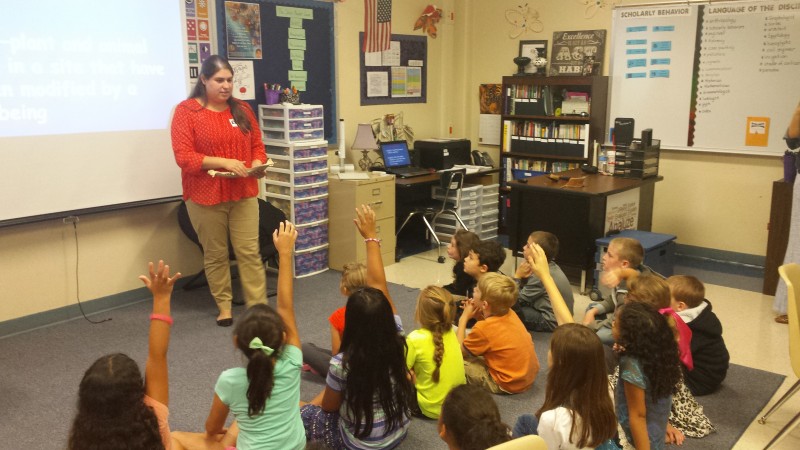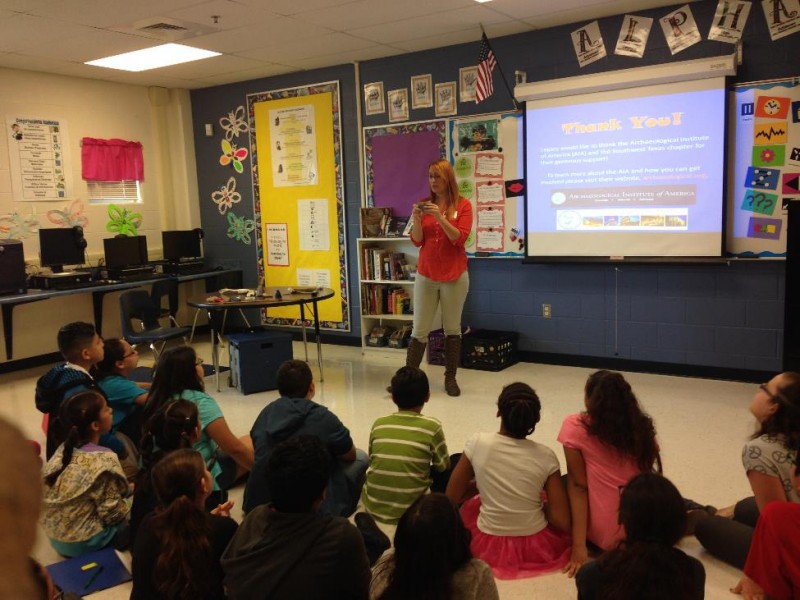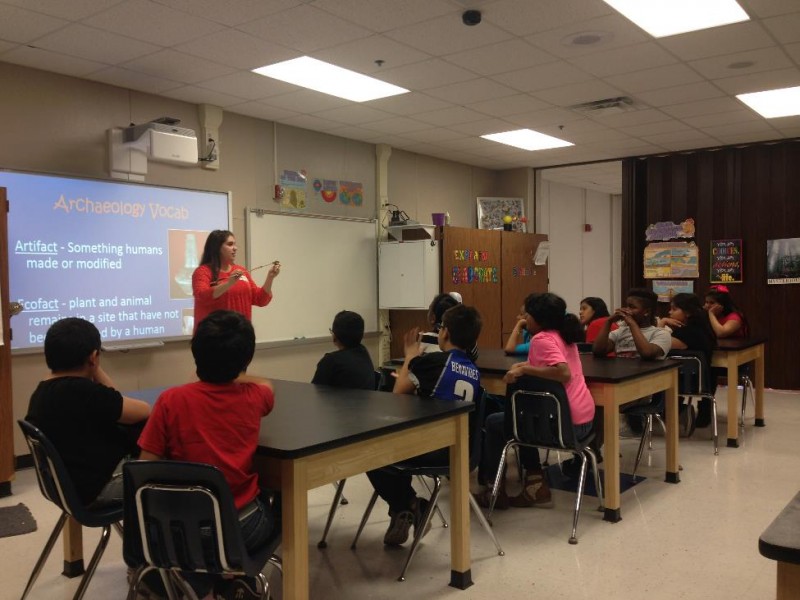 An AIA Society Outreach Grant funded the AIA-Southwest Texas Society's initiative to bring archaeology to the classrooms of ten San Antonio area Title I schools.  Click here to learn more about how you can support the Society Outreach Grant program.
This project allowed the Title 1 schools to bring archaeology into the classroom at no cost during the 2015-2016 school year. Title 1 schools are designated as those that serve at-risk and low-income students. The presentations, supplies, and staff were provided by the University of Texas San Antonio Center for Archaeological Research's Legacy Educational Outreach Program. The Legacy Program staff includes archaeologists Whitney Lytle (Program Coordinator) and Rachel Vara (Asst. Program Coordinator). Our In-School Presentations covered a range of archaeology themed topics. In each presentation we addressed archaeological ethics and methods, as well as topics based on a particular culture or archaeological site as requested by a school. Each presentation was modified to be appropriate for individual age ranges.  Our presentations highlighted "archaeology as science" in order to appeal to STEM (Science, Technology, Engineering, and Mathematics) requirements now emphasized in Texas schools. We also brought a collection of tools, artifacts, and ecofacts to the classrooms for the students to get a hands-on experience.
Project Results Summary:
The "Title 1 Fund Project" was highly successful allowing for 10 local schools and 1,416 students to attend our archaeology presentations at no cost. We conducted an anonymous survey using the website SurveyMonkey Inc. to assess the presentations and to help us improve in the future. We asked both quantitative and qualitative questions regarding teacher satisfaction, student interest, relevance to curriculum, etc. Of the 7 teachers who responded to the survey, we received overwhelmingly positive responses. We asked open ended questions regarding the strengths and weaknesses of the event and any additional information they would like our funders to know. To improve our shorter presentations (20-30 minute), it was suggested we lengthen the time students got to interact with artifacts. We have already put these suggestions into action in our continued attempts to improve these types of in-school events.
Below are several teacher responses from our survey's open ended questions.
What were the strengths of this event?
"I loved the academic vocabulary that was presented, it went right along with my curriculum."

"They went to the students' knowledge level and increased it through the presentation"

"The two presenters were friendly, knowledgeable, patient, and prompt. The hands-on artifacts and the pump drill were really cool. Kids really enjoyed it."

"They combined real world pictures and examples with hands on activities. Powerful combination for student learning!"
What were the weaknesses of this event? Do you have suggestions on how we can improve in the future?
"The slide show presentation was pretty long. It didn't leave much time to enjoy the artifacts."

"Maybe job outlook for Archeology."

"The only weakness was our school did not give them enough time to demonstrate everything they brought. Not their fault, we had a time crunch."
Funds for the "Title 1 In-School Presentations Project" were provided by the Archaeological Institute of America, is there anything you would like our sponsors to know?
"My students and I absolutely loved this presentation!! Ancient Mayan culture was brought to my classroom in a way that most of my students would not be able to access, if it weren't for free presentations such as this!"

"Thank you so much for funding this wonderful program. Introducing students to Archaeology is important and your generosity allows for students, in districts that cannot afford the cost, to experience Archaeology in an in-depth way."

"Thank you! The kids loved it!"

"Our students Loved learning about Archeology, they were very excited."

"We are so grateful for the opportunity to enrich our students' education with real world examples and experiences."
Look below to see some thank you letters from students: