May 1, 2018
AIA Tours: Behind the scenes in France and Spain
by Ian Tattersall
---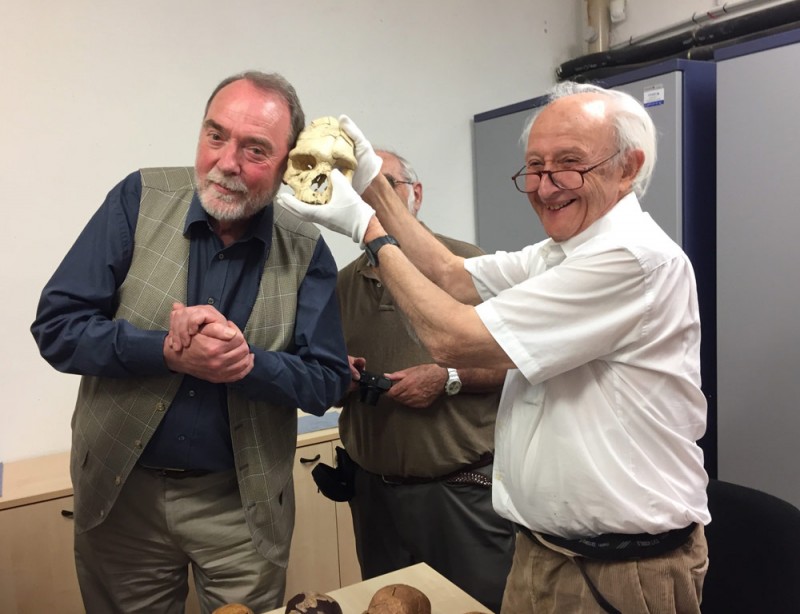 In late April this year, an AIA group (on the tour Decorated Caves of the Pyrenees & the Rhone Valley) visited some of the most spectacular of the cave sites in northern Spain and southern France that were gloriously decorated, with both animal and geometrical images, by the people who inhabited the region during the last Ice Age between about 40 and 12 thousand years ago. The finest of these images took everyone's breath away; but along the way, a slight deviation from this theme was provided by a visit to the village of Tautavel, in the Catalan region of France, where a cave known as the Caune d'Arago was sporadically inhabited by early human precursors between about 600 and 400 thousand years ago.
Most excitingly, at about the 430,000-year point, the cave yielded the broken fossil remains of several individuals of an extinct Homo species, now housed at the Museum in downtown Tautavel. These are some of the most famous of all the fossils documenting the prehistoric hominid occupation of Europe. After scrambling up a high cliff to visit the cave itself, our group repaired to the Museum and was warmly received by the cave's excavator (and the Museum's founder) Professor Henry de Lumley, Director of Paris's Institute of Human Paleontology. Superseding the planned tour of the public exhibits Professor de Lumley spent an hour with us in the Museum's strongroom, demonstrating and discussing the original Arago fossils as tour leader Ian Tattersall translated, and the two scientists traded jokes. For many of us, this unscheduled encounter with those hugely important early Europeans turned out to be the high point of the entire trip.
Join Ian Tattersall on this trip May 30 – June 9, 2019.  Details are pending click here for more information.