July 12, 2018
AIA Tours: Cruising the Baltic Sea
by Elizabeth Pierce, AIA lecturer/host
---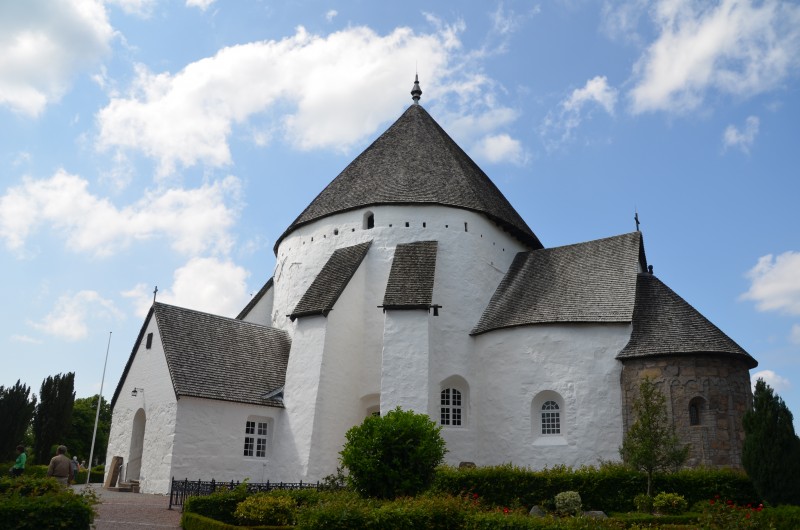 Our June 2018 voyage in the Baltic, which began in Stockholm, Sweden, and ended in Copenhagen, Denmark, stopped at many notable cities around the Baltic Sea. During our journey, we explored the towns of Helsinki and Tallinn, plus had two days of tours in and around the beautiful city of St. Petersburg. However, our last stop was probably the most pleasant surprise of our trip.
Although I have traveled a fair bit in Scandinavia, Bornholm was a new destination for me. Located in the Baltic Sea nearly halfway between Sweden and Poland, Bornholm is a small island which belongs to Denmark. We anchored outside the charming village of Gudhjem ('God's Home') with sunny skies and fairly calm seas. Once ashore, we boarded buses to travel to the northwest corner of the island. There we visited Hammershus Slot, Scandinavia's largest medieval fortification, which was built sometime around the beginning of the 13th century.
Hammershus was often at the center of conflicts between royalty, the church, and commerce. It was deserted in 1745 and has since fallen into ruin. Some of the outer buildings and walls are practically non-existent as, soon after, locals used the ruins as a source of building stone. However, the ruins have since been protected, and parts of the castle still stand to their original height. Situated at the top of a hill, we had an excellent view of the coastline below.
On our way back to Gudhjem, we stopped at the round church at Østerlars. No one is quite sure why Bornholm has several round churches, an unusual style in medieval Scandinavia. At Østerlars, we were able to see two Viking Age rune stones and some restored medieval murals inside the church.
Back in Gudhjem we tried some of the local delicacies. There was a cozy pub right at the smokehouse in town. Inside, we were served a choice of beverages (including Danish beer) and schnapps, plus herring smoked right on the premises and served on rye bread with vegetables and egg. After that, some guests opted for a short walking tour through town with the guides, while others browsed the shops featuring local artisans and sampled some local ice cream. Although Bornholm wasn't a destination that was on my radar before, I plan to someday go back and explore further.
The AIA is co-sponsoring this Baltic cruise again in June 2019, this time with AIA lecturer/host Nancy Wilkie, and AIA Tours is taking advance reservations now. Click here for more information!