June 28, 2016
AIA TOURS' "In the Wake of the Vikings" cruise, Glasgow to Copenhagen, June 2016
by Elizabeth Pierce
---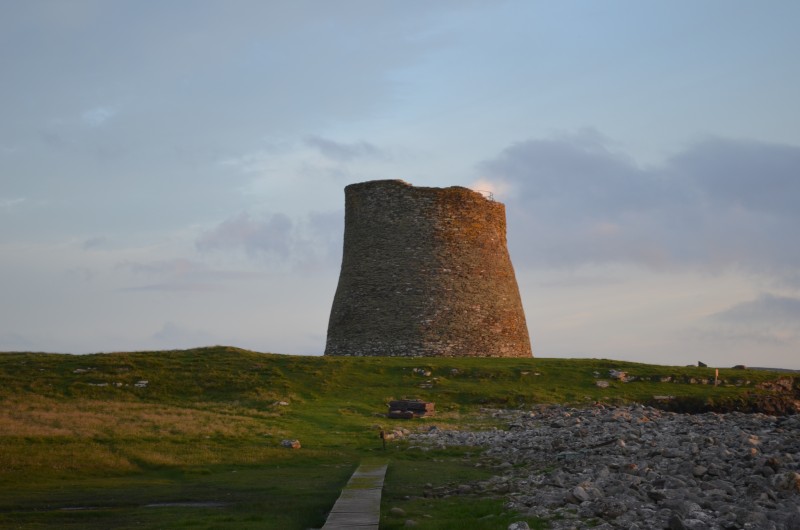 We passed through some stunning landscapes during the AIA-sponsored "In the Wake of the Vikings" voyage, and Shetland certainly ranked high on the list. This year, the sun was shining and the views were tremendous as we visited one of the most well-known multi-period archaeological sites in the UK: Jarlshof.
After a smooth overnight sailing from Orkney, we awoke to find the ship docked at the charming town of Lerwick, just across the sound from the island of Bressay. We took the scenic route on the trip down the main island of the Shetland archipelago to Jarlshof, which is located at Shetland's southern-most point. En route, we stopped at a viewing point for a look at the Broch of Mousa, located on a small island just offshore. Brochs are large, Iron Age stone structures unique to Scotland, and the broch at Mousa is the most finely-preserved of all.
The coach took us along the back roads so we could see St. Ninian's Isle, where a stash of intricately-decorated silver bowls, spoons, brooches, and ornamentation for weapons dating to c. AD 800 were found by a schoolboy volunteering on an excavation of the chapel in the 1950s. Just down the road from there, we were able to watch seals swimming in turquoise waters off of a white sandy beach.
Having driven over the runway of Shetland's main airport and past the recently-excavated site of Old Scatness, and walked past the Shetland ponies grazing near the entrance, we finally arrived at Jarlshof. The site's name is quite recent, coined by Sir Walter Scott in his 1822 novel The Pirate. However, its archaeological heritage is extensive, ranging from the earliest evidence of habitation in the Neolithic around 2500 BC to a late 16th-century laird's house, and with every period in between. Many structures survive several feet tall because they were buried and protected by sand for centuries.
Our guide led us past the Neolithic and Bronze Age areas, where objects such as quern stones could be seen displayed near where they were found by archaeologists, and into the Iron Age broch and wheelhouses. Past those, the rectangular shapes of the Viking Age farm buildings illustrated the visible changes in the archaeological record with the arrival of Scandinavian settlers.
Jarlshof always must have been an attractive location. The sea, constantly threatening the modern site, would have provided a rich source of food and a useful location for transportation. Nearby fields provided good grazing and farming. On a beautiful day like this, it was easy for us to see why people lived here for millennia.
I am pleased to announce that I will be lecturing on this AIA cruise "In the Wake of the Vikings" again in June 2017. For further information, please contact the AIA Tours office at aia@studytours.org or (800) 748-6262.