February 14, 2013
AIA Tours: The Ancient Capital of Memphis and Arrival in Aswan
by Egyptologist Stephen Harvey
---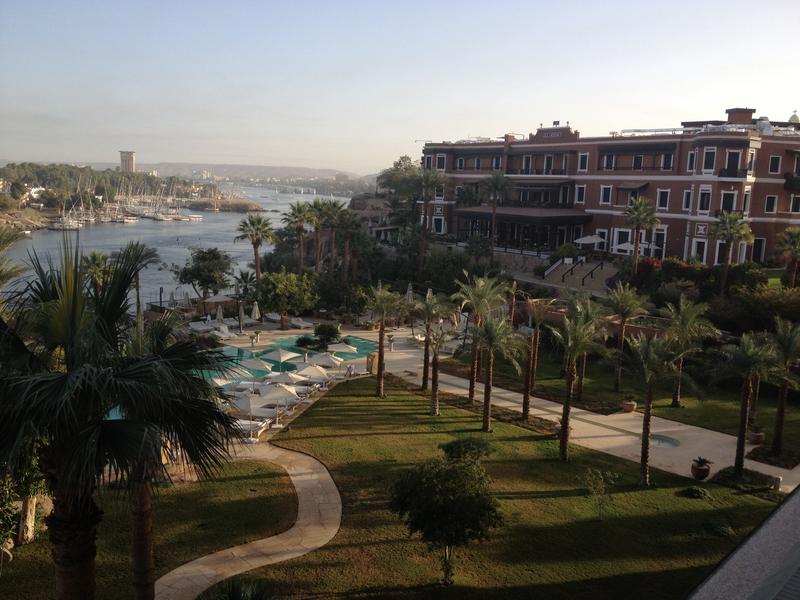 Day 5: Thursday, February 7.
Some days on the tour are more about traveling to the next destination rather than pure archaeological tourism, and today was to be one of those days, with an important exception: a trip en route to the ruins of ancient Memphis. Morning saw our hotel check out, and the loading of our bags onto the bus that would eventually take us to the Cairo airport and thence to Aswan, where we are to board our cruise ship on Lake Nasser. At Memphis, our guide Mahmoud showed us the archaeological park formed out of statues and temple parts from this, the capital of Egypt during most of the ancient millennia. We also saw column bases from the poorly-known (and hardly published!) palace of King Merneptah, excavated in the 1920s by Clarence Fisher of the University of Pennsylvania, the school where I received my doctorate in Egyptian archaeology. Most of the palace elements are actually on display in Philadelphia, and what remains in Memphis itself is not even labeled in any way.
Mahmoud and Khaled (our logistics manager for the trip) had a surprise in store for us for lunch after our visit: a place I had never heard of, located in the residential area near the airport. Locally known for its excellent grilled and stuffed pigeon, the restaurant's name can loosely be translated as "Professor Pigeon," or (maybe better) as "The Pigeon Master"! In Arabic, the word for pigeon (hammam) sounds almost exactly like the word for a traditional steam bath (hamam), leading to some confusion among our well-traveled and well-informed passengers (at least one of whom has seriously studied Arabic, impressing all of us with his ability to read signs along the way). Fortunately for those who would prefer to feed pigeons in a park but not eat them, there were wonderful other items on offer: fantastic grilled chicken, mixed grill, wonderful lentil soup, and the usual great range of dips and spreads for which the Middle East is justly famous. I'm glad to discover a casual place with a neighborhood feel, just a few blocks from the lavish hotel where we usually stay before flying home.
Speaking of that hotel, our drive past it after lunch was interesting in itself, since it was hosting at that moment the Organization of the Islamic Conference, a major international summit of leaders from Muslim countries, most prominently (or notoriously) including President Ahmedinejad of Iran himself. The entire perimeter of the hotel was surrounded by armed guards, as well as television journalists reporting from the gardens surrounding the area. Ahmedinejad had reportedly toured the pyramids at Giza the day after we did, and I am just glad that our visit did not coincide with his, seeing as his security detail would probably have hampered our visit. We will also be glad to return to the hotel on our last night for our farewell dinner, by which time the conference delegates will have long since returned home and the hotel will be back to its normal function as a luxury way-station for those heading to or from Cairo.
At the airport, our watchful Egyptian travel staff averted what would have been a real headache. Many of our bags were mistakenly labeled by EgyptAir's computerized system as heading to Abu Simbel, our destination for the following day's flight from Aswan. Mahmoud and Khaled's active intervention prevented passengers from having a night in Aswan with no clean clothes, medication, and toiletries, and we boarded the plane for the short flight with confidence that we would see our bags upon arrival!
Once we arrived at Aswan and did manage to reclaim our bags (!), we drove into the city across the low dam completed in 1902. I was very excited to see the newly reopened Sofitel Cataract Hotel, comprised of the historic and lovely Old Cataract (opened in 1899) and the renovated New Cataract wing. I had heard very good things from an Egyptian colleague, but I can safely say that I was bowled over by my room once I got to it. The travel staff had arranged junior suites for all of us, comprised of 5 separate and enormous spaces, all very tastefully decorated and with the most up-to-date conveniences, as well as balconies facing the Nile and the archaeological treasures of the island of Elephantine. A previous visit to the modern wing of the Cataract had revealed a Soviet-style 1970s hotel building, with appliances and charm to match, so I was skeptically holding out to see how good the renovation could be. Honestly I can now say that the Cataract is the nicest hotel I've stayed at in Egypt in years, complete with state-of-the-art gym (huge!), an amazing spa with indoor lap pool and complimentary steam bath (there's that word hamam again!), and an enormous heated pool. I am sending photos to equally skeptical colleagues in the U.S., mostly because they probably won't believe me without seeing for themselves. The only downside (and one perhaps indicative of the times we are going through in Egypt, which should not reflect on the hotel itself) was a temporary lack of hot water, which came back on just in time for a welcome hot shower before falling into bed.
[Click to view our full AIA Tours
Behind the Scenes in Ancient Egypt
itinerary.]