November 2, 2012
AM Public Lecture Explores the Rare Mosaics Found at Huqoq, Israel
by Elizabeth Christian
---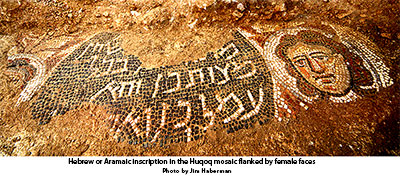 Huqoq, Israel: the site of an ancient Jewish village, never before excavated until archaeologist Jodi Magness and her team arrived in the summer of 2011. The results of the first season were promising: monumental stone foundations of what was once a synagogue building, surprising for a village of such small size. Even after a full season, archaeologists had not reached the original floor level, leaving the team unsure of the structure's exact date.
When the team returned in 2012, they continued to expose more of the synagogue's foundations. What they found was completely unexpected. The exposed floors were composed of stunning mosaics of exceptional quality, still brightly-colored and intact. One mosaic featured biblical figure Samson in a scene from the book of Judges, chapter 15, another featured two female figures surrounding a Hebrew or Aramaic inscription. Dr. Magness called the finds "significant" given the high quality of the mosaic and how rare it would have been at the time of its creation. The discovery of such mosaics presents archaeologists with more evidence on how Jewish and Roman art and culture interacted in this region.
Attend the AIA Public Lecture on January 3rd, 2013, at 6:00 pm to hear more about Prof. Magness's riveting accounts. The Attendees can also pick up a copy of her latest book, The Archaeology of the Holy Land: From the Destruction of Solomon's Temple to the Muslim Conquest on Amazon.