December 20, 2012
An insider's guide: the AIA conference cheat sheet has arrived!
---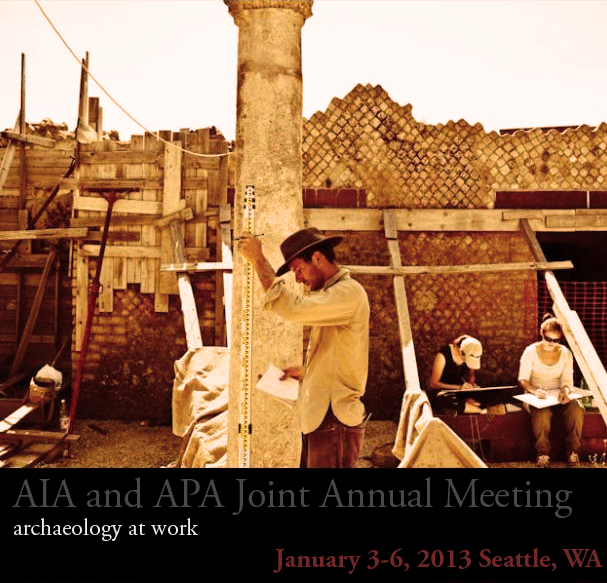 The 2013 Annual Meeting is just two shorts weeks away! The discounted group rate at the Sheraton Seattle Hotel has already sold out. However, we are thrilled to announce that our other Official AM hotel, the Grand Hyatt, has extended the booking window to December 24 to allow attendees the opportunity to stay at one of the conference hotels at the discounted group rate of $139/night. Please note there are only a few hundred rooms left at this rate; we advise booking as soon as possible.
Just looking at the 2013 Annual Meeting schedule can leave you feeling overwhelmed; with more than 300 events and 70 sessions fit into the three days, the Program can be hard to navigate. To help, the AIA online scheduling tool will be available this Saturday on the Annual Meeting website so you can see all of the events offered in one location and create a custom schedule to print or save for use on your iPhone or tablet.  In the meantime, here are some recommendations of events that just shouldn't be missed:
Start with the AIA Public Lecture by Dr. Jodi Magness and the AIA and APA Joint Opening Night Reception on Thursday evening for a chance to meet up with old friends and network with more than 800 attendees. Be sure to take a jaunt around the conference hotel and convention center while you're there to familiarize yourself with the space before the start of morning sessions.
Committee and Interest Group Meetings are something that you always see on the schedule—maybe this is the year to contact one of our chairs and join in the discussions. For those of you publishing your research and findings or including your photography or sketches in presentations and publications, join us for the AIA "Over Lunch" Discussion series to take advantage of some pro-bono advice from New York intellectual property attorney and professor Paul Connuck on "Protecting Your Intellectual Property Rights: An Archaeologist's Primer;" lunch will be provided and seating is limited to the first 120 participants. Specific questions for Mr. Connuck can be emailed ahead of time (acauldwell@aia.bu.edu) and will be answered as time permits. For our Student Members, be sure to attend the dedicated Undergraduate Paper Session  and the Job Search Workshop. Are you thinking about or already partaking in life post-graduation? Come network with your peers at the AIA's inaugural  Beginning Career Professionals Cocktail Networking Hour, immediately following the Opening Night Reception in the Onyx Suite at the Grand Hyatt Hotel. This event is open to graduate, doctorate, and post-doctorate students.
Want an opportunity to get out of the Convention Center while still enjoying conference events? Head over to the Seattle Art Museum for Session 3G: "Porous Borders": Presenting Ancient Art in the Encyclopedic Museum" for a hands-on workshop Friday afternoon. Transportation to and from the museum will be provided. The 13th Annual Archaeology Fair will be held off-site Saturday at the Burke Museum. This family-friendly event welcomes presenters from museums, national parks and reenactment groups, and offers the chance to see the AIA Outreach and Education department in action.
Here are a few things for everyone: The AIA Presidential Plenary Session by Dr. Elizabeth Bartman entitled "The Ancient City" is the second in a series of presidential plenaries that in successive years will investigate major archaeological themes and brings together scholars whose research spans the globe.  The AIA Evening Lightning Session is the first of its kind and encourages audience participation: a fast-paced, informal session of five-minute presentations about current research, case studies, and methodological problems. Delicious hors d'oeuvres and cash bar are included at the event. At "Integrating Conservation and Archaeology: Exploration of Best Practices Workshop" by the AIA Conservation and Site Preservation Committee, a panel of seven esteemed archaeologists and conservators will discuss how conservation measures can be effectively integrated with archaeological research at both terrestrial and maritime sites.  
Jeremy B. Rutter, winner of the 2013 Gold Medal Award for Distinguished Archaeological Achievement, will attend a symposium held in his honor. The colloquium "Minding the Gap: A Problem in Eastern Mediterranean Chronology, Then and Now" will address Rutter's own establishing works and more recent applications and interpretations. Another award winner will be honored with a colloquium highlighting the major archaeological projects supported by the Packard Humanities Institute, a Tribute to David W. Packard Jr., winner of the Outstanding Public Service Award.  Last, but certainly not least, join us as the AIA leadership pays tribute to those individuals who have made significant contributions to archaeology and to the Institute at the AIA Awards Ceremony and Cocktail Reception. 
Follow the Archaeological Institute of America on Facebook for the latest on presentations and special events. Join the conversation on Twitter @archaeology_aia and tell us what events caught your eye, if you are presenting highlight your session, or tell people why your talk should not be missed! This year's official Annual Meeting hashtag is #AIA2013.
We look forward to seeing you in Seattle!
Image: The photo used througout the Annual Meeting site is by Jens Haas. It pictures the Classical Studies Graduate Program at Columbia University's APAHA excavation at Stabiae, Italy.