February 1, 2021
Announcing the 2022 Gold Medal Award Winner
---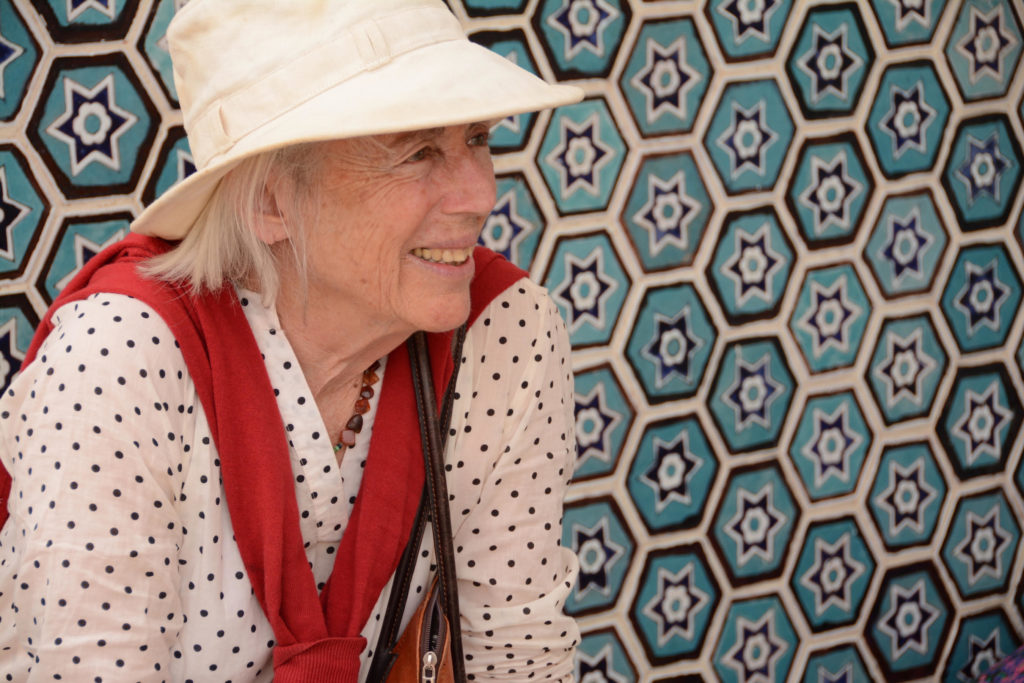 The Archaeological Institute of America is pleased to announce that the Gold Medal Committee has selected Dr. Elizabeth B. Fentress as the 2022 recipient of the Gold Medal Award for Distinguished Archaeological Achievement. This award, presented each year at the AIA-SCS Annual Meeting, recognizes distinguished contributions to archaeology, primarily through research and/or fieldwork. The Gold Medal is the highest honor the Institute bestows.
Dr. Fentress has transformed our knowledge and understanding of ancient Mediterranean history and its archaeology across a remarkable range of space and time. As an excavator and survey archaeologist of Roman Africa and Italy, her work has consistently framed the Mediterranean as a center of relations and frictions, emphasizing the importance of local indigenous traditions and ultimate adaptations to multiple presences. She is an outstanding field archaeologist with legendary technical talent and skills, above all her ability to read and grasp the meaning of stratigraphic evidence across many horizons. Dr. Fentress is equally highly regarded for her brilliance in interpreting landscapes in broader terms to understand population changes, economic shifts, changes in material use, and religious developments. Her most recent research on diaspora, language change, and slavery is a natural continuation of a career devoted to exploring the Mediterranean and its shores as places of constant movement and meeting.
Extraordinarily impressive is her ability to publish detailed excavation reports and synthetic thought-pieces in a timely manner; her published work is theoretically aware and sophisticated while remaining empirically grounded in archaeological evidence. She has authored or co-authored three books on North Africa and one on Italy and has edited or co-edited three more books on North Africa and five on Italy. The scholarly articles she has authored or co-authored include 44 on North Africa, 35 on Italy, seven on archaeological theory, four on Roman history, and one on epigraphy, plus 21 review articles and 14 book reviews. Also of great significance is her work to replace and extend the Fasti archeologici with Fasti Online and the online journal FOLD&R, and her work to put online the archives of colonial archaeology in the Mediterranean (NAHAN). This remarkable career has, moreover, been pursued without the benefit of a standard academic affiliation.
Dr. Fentress has served as mentor and colleague to generations of scholars. Her work with local partners in Tunisia, Algeria, and Morocco, and on developing collegial relationships with local archaeologists, academics, and authorities wherever she works, has been of immense service to the field in Europe, North Africa, and the US. She has trained generations of scholars, introducing archaeologists to each other in the field as well as from her home, reading drafts of manuscripts, and talking through ideas at length. She has thus substantially supported other archaeologists' work by facilitating and imagining cooperative contacts as well as by offering a unique hospitality that forges unexpected friendships and collaborations. As one letter-writer comments, the lessons he learned from Dr. Fentress in "archaeological methods, research ethics, grace and understanding in interactions with local scholars and local communities, project logistics, and overall directorial leadership skills…launched my transformation from student to professional." Another summarizes, "In all her undertakings, Lisa Fentress has nurtured students and supported colleagues, encouraging their participation in fieldwork and publications…her generosity of spirit has touched all who know her." The exchange of ideas and techniques she regularly fosters has enriched archaeological practice and understanding across national boundaries and scholarly generations.
For all of these reasons, she has richly earned the highest honor the AIA can bestow, the Gold Medal for Distinguished Archaeological Achievement.