December 7, 2011
Annual Meeting Highlight: "Uncorking the Past: Ancient Ales, Wines, and Extreme Beverages"
---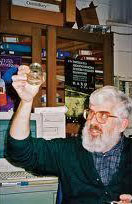 Annual Meeting: Public Lecture and Opening Night Reception
This year's public lecture, "Uncorking the Past: Ancient Ales, Wines, and Extreme Beverages," will be delivered on Thursday, January 5 at 6:00 pm by Patrick McGovern, Ph.D. Scientific Director, Biomolecular Archaeology Laboratory University of Pennsylvania Museum of Archaeology and Anthropology. This archeologist has swirled and sniffed 3,000-year-old millet wine, stood knee deep in a Portuguese lagar filled with skins and juice, and poked around skeleton-filled tombs in remote parts of the world.
The Opening Night Reception to follow is will be hosted by the University of Pennsylvania Museum of Archaeology and Anthropology. We hope you'll join more 700 conference guests for a private, after-hours viewing of this world-class Museum while enjoying a glass of fine wine in the Chinese rotunda, Egyptian room, or one of the many galleries that will be open exclusively for the AIA and APA.
Complimentary transportation will be provided to and from the Museum. Shuttle service will begin at 5:30 p.m. from the 12th Street entrance of the Marriott Hotel and will run continuously until 9:00 p.m. The Public Lecture is free; tickets to the Opening Night Reception, which may be purchased at the door, cost $29/$19 students. The reception includes hors d'oeuvres, one drink ticket, and complimentary transportation. We look forward to seeing you there!