April 27, 2011
Archaeological Institute of America Gala
---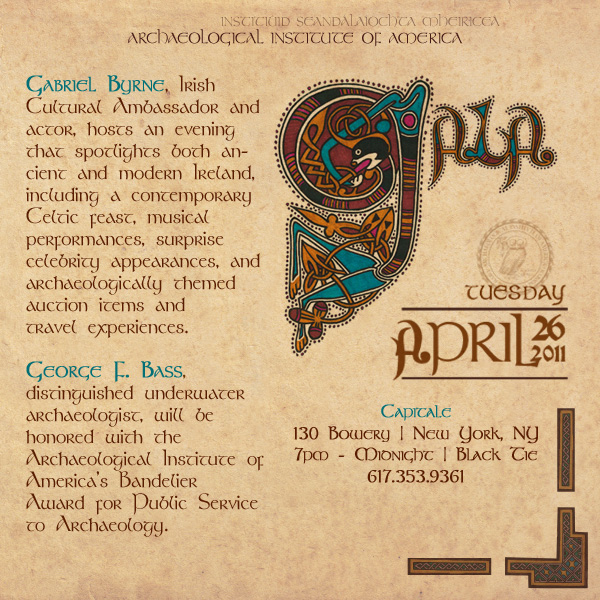 From the moment guests began arriving at the Archaeological Institute of America's Spring Gala, the warmth of Ireland's hospitality seemingly reached across the ocean and entered Capitale, the venue of this year's spectacular event. The Gala spotlighted the depth of Ireland's archaeological history and the 21st century vibrancy of the island's culture.
Gala program highlights included a performance by the Niall O'Leary Irish Dance Troupe, welcoming remarks by the renowned actor Gabriel Byrne, presentation of the Bandelier Award for Public Service to Archaeology to nautical archaeologist George F. Bass by AIA President Elizabeth Bartman, as well as a special presentation by Patrick Wallace, Director of the National Museum of Ireland on "Around the Emerald Isle: Archaeology in Ireland."
Host Byrne spoke eloquently of archaeology being a method of connecting people with each other by sharing items and ideas that symbolize our past, present, and future.
View photos and video from the gala
The AIA is grateful to our sponsors, Culture Ireland and Tourism Ireland for helping to make this event possible, as well as to Gala Co-Chairs Julie Herzig-Desnick and Elizabeth Macaulay, Honorary Chairs The Knight of Glin and HE Ambassador Michael Collins, members of the Gala Committee and Gala Master of Ceremonies and Irish Cultural Ambassador Gabriel Byrne for helping to craft an unforgettable evening.