September 9, 2010
Be an Archaeologist for a Day at an AIA Archaeology Fair
by Ben Thomas, AIA Director of Programs
---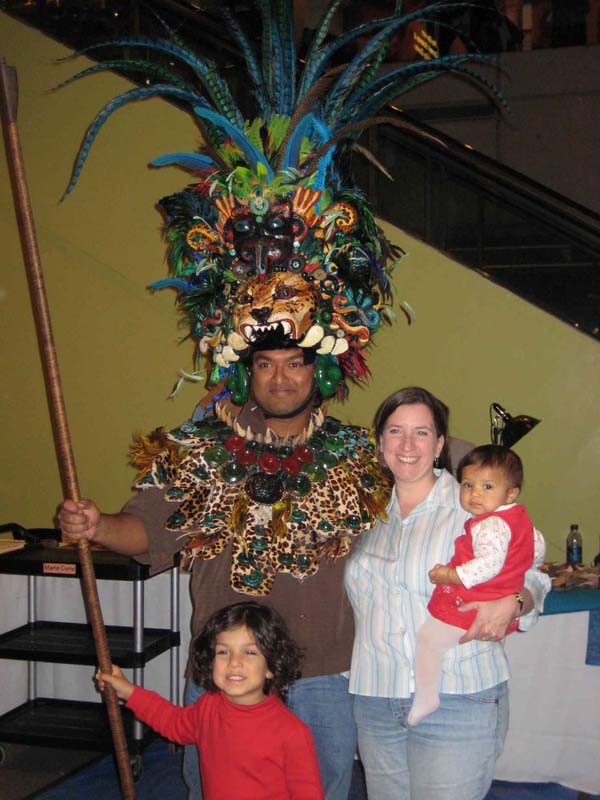 The AIA's public outreach programs, which range from weeklong conferences with thousands of attendees to workshops for handfuls of middle-school teachers, are at the core of the Institute's mission to inform and educate. Several of our signature programs, such as the Annual Meeting, National Lecture Program, and Archaeology Fairs, are organized by staff in our Boston office. Numerous events are also organized at the local community level by more than 100 AIA Local Societies across the U.S., Canada, and Europe.
In recent years, our Archaeology Fairs have been extremely popular. These one- or two-day events showcase dozens of archaeologically and historically themed interactive activities and demonstrations for the public and encourage participation from people of all ages and interest levels. Recent fairs have included everything from flint-knapping (making tools from stone) to making Roman-style mosaics to demonstrating the use of underwater scanners and 3-D modeling in archaeological work. Presenters at the fairs include archaeologists, educators, museum specialists, historical reenactors, and others involved in researching and understanding ancient life. Participants get to handle artifacts, take part in interactive activities (such as using spearthrowers), and—best of all—talk to the professionals and experts presenting the activities.
Our next fair is scheduled for October 14 and 16 at the Museum of Science (MOS) in Boston. This is the fourth year that the AIA is partnering with the MOS, and the fair has been getting bigger and better each year. Last year, we had more than 20 presenters (individuals and organizations) and more than 5,000 attendees. The first day of the fair was open mainly to school groups, and more than 2,000 students, teachers, and chaperones attended the program. The second day was open to anyone coming to the museum. This year, school groups will come to the MOS on October 14 and the fair will be open to all on October 16.
This year, for the first time, the AIA–MOS Fair will have a theme: ancient technology. We are inviting archaeologists and other specialists with expertise in re-creating and demonstrating ancient technologies such as flint-knapping, glass-blowing, pottery making, and blacksmithing to participate in the event. More than a dozen presenters have already committed to the program. The AIA–MOS Fair has been supported for the past three years through grants provided by the Massachusetts Foundation for the Humanities. To read more about fairs and some of our recent ones, please visit the Archaeology Fairs section of our website.
Following the Boston fair we will be finalizing plans for the 11th Annual Archaeology Fair at our 112th Annual Meeting in San Antonio (January 2011). We are partnering with the Witte Museum in San Antonio for this event, which will showcase local presenters and feature several activities dealing with Native American and Texas history. The Witte Museum has graciously offered to host the fair and we are working with their Public Programs staff to organize and publicize the event. The museum already has an active educational program that reaches out to the local community and we are very excited to be working with their staff.
One fantastic development for the AIA is that several Local Societies have shown an interest in planning and hosting archaeology fairs in their communities. On March 5 and 6, 2010, our Local Society in Milwaukee became the first one to host a fair. The event, held in partnership with the Milwaukee Public Museum, was a great success and the two groups have decided to organize a second fair scheduled for March 11 and 12, 2011. A report on the 2010 Milwaukee Fair is available online. Our Society in Staten Island will be hosting a fair on April 3, 2011. We will post updates on this event as we get them.
We look forward to seeing you at the next Archaeology Fair near you!