May 1, 2012
Dispatches from the AIA – May/June 2012
---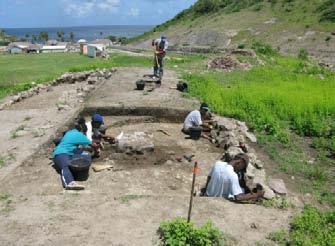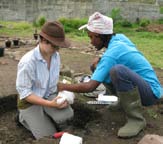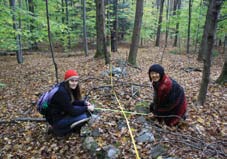 Site Preservation Grant Awarded to Carr Plantation Archaeology Project on Montserrat
The 1997 eruption of the Soufrière Hills Volcano on Montserrat covered the southern two-thirds of the Caribbean island under pyroclastic flow and volcanic ash. The eruption destroyed Montserrat's capital, Plymouth, and a significant portion of the island's prehistoric and historic settlements. The island's populace was forced to relocate to the northern part of the island and a new capital was established in the town of Little Bay.
Subsequent to the tragic destruction of most of the island's historical sites, the Montserrat National Trust (MNT) initiated a program to preserve and study the William Carr Estate, one of the earliest and few remaining European settlements on Montserrat. Despite the historical importance of the site, the Carr Estate—located in the center of Little Bay—is under constant threat from encroaching development and Montserrat is in danger of losing an important part of its early history.
The Carr Estate may have been established as early as 1639. There are a few early documentary mentions of the site, and its location is noted on a map of the settlement dating to 1675. Apart from this, not much was known about the plantation. The Carr Estate is currently being studied by Jessica Striebel MacLean of Boston University. MacLean, director of the Carr Plantation Archaeology and Heritage Project, is working in conjunction with the MNT to excavate, interpret, and preserve the site.
Excavations at the Carr Estate have uncovered artifacts connected to the daily life of eighteenth-century Montserratian planters and exposed a previously unknown nineteenth- to early-twentieth century component of the site. The continuous occupation of the plantation provides researchers with the unique opportunity to understand the nature of European occupation of Montserrat from initial settlement to the present.
In 2012, the AIA awarded a Site Preservation Grant to the Carr Plantation Archaeology and Heritage Project. The grant will be used to protect the site from urban development and increase local community involvement in its protection and preservation. MacLean will create an archaeology-focused program at local secondary schools in which students will be trained in basic archaeological field and lab techniques, install interpretive signage around the site, develop a guided walking tour of the site to be used in conjunction with the interpretive signs, and erect protective fencing with gate access around the perimeter of the site.
The work supported by the AIA at the Carr Estate combines preservation efforts with public outreach designed to raise local awareness of the site. This holistic approach to site preservation exemplifies the AIA Site Preservation Program's approach to tackling the issue of protecting and preserving our invaluable archaeological resources and reiterates the idea that long-term preservation is possible only when local communities are committed to protecting sites. To learn more about the AIA Site Preservation Program and to read about the other projects we support, please visit www.archaeological.org/ sitepreservation
National Archaeology Day, October 20, 2012
The Archaeological Institute of America (AIA) is pleased to announce that National Archaeology Day will be held on October 20, 2012. National Archaeology Day is a celebration of archaeology and an opportunity for the AIA and other like-minded organizations and individuals to raise awareness of the discipline across the United States, Canada, and abroad. In 2011, National Archaeology Day was officially recognized by Congress and more than 14,000 people participated in over 100 events held throughout the month of October. To follow this year's program and to find out about events in your area, visit www.nationalarchaeologyday.org. In addition to events that you can attend, the AIA will organize a series of online opportunities that will allow you to participate in the event from the comfort of your home. Last year's virtual participation opportunities included a global scavenger hunt and the cooperative creation of a Google Earth layer showing popular archaeological sites across the United States and Canada.
An important part of last year's successful celebration of National Archaeology Day was the cooperation we received from other organizations committed to archaeology. These organizations hosted events and publicized National Archaeology Day to their membership. We are currently seeking organizations that are willing to host events and/or promote National Archaeology Day 2012 to their membership. For information on how your group can become a Collaborating Organization and for sponsorship details, please visit www.archaeological.org/NAD/CollaboratingOrganizationInfo
AIA Societies Promote Local Community Involvement
There are currently 108 AIA Local Societies actively involved in promoting archaeological learning and raising awareness of archaeological issues in their local areas. Joining an AIA Local Society is a great opportunity to get involved with archaeology enthusiasts in your community. Societies provide people with chances to connect with both professional archaeologists and fellow community members who simply enjoy learning about the discipline.
Societies organize and host events throughout the year. An important component of society programming is the AIA Lecture Program. Each year, the AIA sends world-renowned archaeologists to our Societies to share their latest research and discoveries. Societies supplement these lectures with their own events, such as dinners with archaeologists, study groups, field trips, and more.
The AIA provides funding to Societies that organize archaeological outreach programs for their communities through the Society Outreach Grant program. Recent Society Outreach Grant awardees have given presentations at local schools, worked with museums to provide outreach components to archaeologically themed traveling exhibits, organized archaeology fairs, and even re-created a Roman spectacle!
Most Societies participate in National Archaeology Day celebrations because it is a great opportunity for them to promote their programs and activities on a national level.
Join a Local Society today and get involved! Visit www.archaeological.org/membership/join. Cannot find an AIA Society near you? Contact societies@archaeological.org for more information on how you can start one.