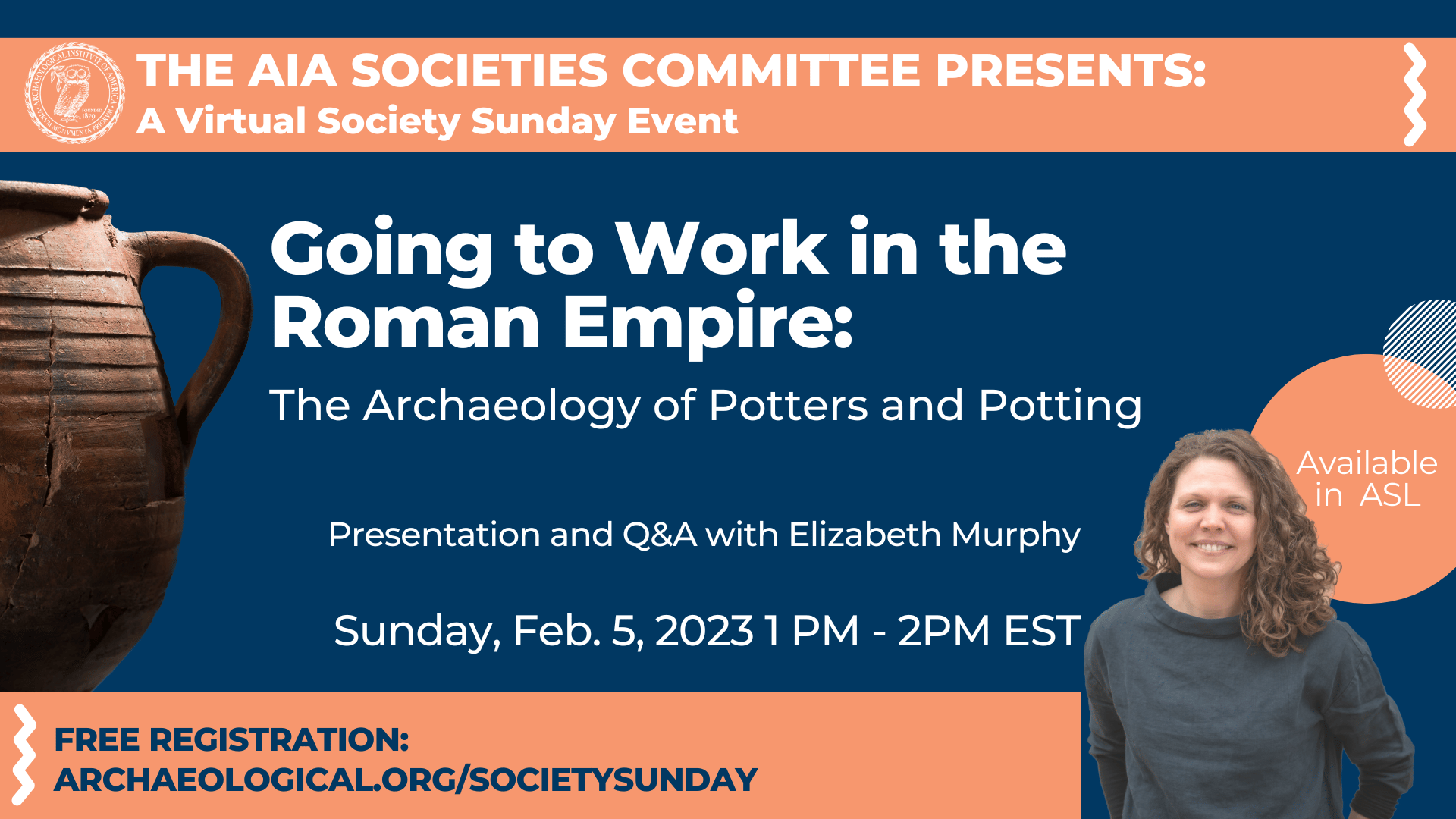 Going to Work in the Roman Empire: The archaeology of Potters and Potting
Join us as the AIA Societies Committee presents a virtual presentation and Q&A with Elizabeth Murphy. This presentation will also be available in American Sign Language.
Professional working lives define our place in society and structure the rhythms of our daily experience—how, then, were such lives lived in the past? In this talk, Elizabeth Murphy, an Assistant Professor of Roman Archaeology in the Department of Classics at Florida State University, will investigate the everyday working lives of ancient craftspeople by venturing into the workshops of a single, common profession—potters.
With many hundreds of kilns documented from the Mediterranean, with elaborate trade networks reconstructed from distributed pottery, and with workshops appearing in a range of settings (from cities to rural estates), potters and their ceramic products are arguably the most archaeologically visible craft profession of the ancient world, yet we have no biographical accounts or personal narratives from the period on the lives of these workers. Using the rich archaeological record, she will investigate their workplaces and working lives—from the technologies of production to the rituals and magic of workshops.
Elizabeth A. Murphy is an archaeologist specializing in the study of the Mediterranean during the Roman Imperial and Late Antique periods. Her research and teaching concern the social and economic organization of the Roman world; more specifically, her work focuses on the history and archaeology of labor, production, and technology. She is a specialist in material culture studies, with particular emphasis on the artifactual record of crafts production, and her fieldwork projects have spanned the ancient Mediterranean world from Asia Minor to Italy. She currently co-directs the Landscape Archaeology of Southwest Sardinia project (LASS), a diachronic landscape project in the modern region of Sulcis (Sardinia, Italy). With LASS, she is investigating the settlement organization, landscape exploitation, and daily life practices of this rural region during the period of the Roman Empire.
The lecture will also be available in American Sign Language and we will also enable auto captioning on Zoom. Due to Zoom limitations on mobile devices and tablets, participants interested in accessing ASL interpretation should log in using the desktop version of Zoom.
Register
When placing events on your calendar using these buttons, please check that time zone displays correctly.