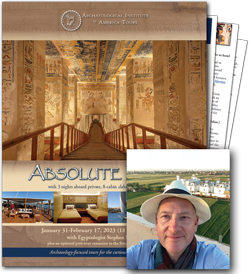 This itinerary is carefully crafted to provide the discerning traveler with the finest Egypt tour available. It combines all the best attributes of an in-depth, small-group, all-inclusive, well-paced, luxury trip.
Highlights:
Learn with a distinguished and engaging American scholar plus a wonderful local Egyptologist and an excellent tour manager. This trio has been receiving accolades for many years.
Travel with a maximum of just 16 guests plus your trio of leaders.
Enjoy the best accommodations, including 12 nights at luxurious, 5-star hotels in Giza, Cairo, Luxor, and Aswan; one night at the best-available hotel in Abydos; and a three-night Nile cruise aboard a comfortable, eight-cabin dahabiya (traditional Nile sail boat).
Meet with excavators and conservators, including behind-the-scenes visits, when possible.
Discover the preeminent sites of the pharaohs from Cairo to Luxor, Aswan, and Abu Simbel:
If it is open, spend two full days exploring the Grand Egyptian Museum that is scheduled to open in late 2022.
Tour the amazing Giza pyramids and Sphinx as well as Saqqara's Step Pyramid of Djoser and newly-discovered, closed-to-the-public, Tomb of Wah Ti.
Explore the astounding temple complex of Karnak as well as Luxor Temple, plus spectacular royal mortuary temples and tombs in the Valleys of the Kings and Queens, such as those of Seti I and Nefertari.
Visit the remarkable Temple of Hathor at Dendara as well as Abydos, one of the oldest and most important cities in ancient Egypt, where Steve Harvey, your AIA lecturer, has been working since 1993.
Cruise the Nile from Esna to Aswan aboard an eight-cabin sail boat, away from the convoys of large riverboats, so that we visit remarkable temples without the typical crowds. From the spacious top deck, observe timeless pastoral scenes of feluccas, farmers, herders, and village life.
Fly to Abu Simbel to visit the stunning and enormous rock-cut temples of Ramesses II and Nefertari.
An optional, seven-day, post-tour extension to the Siwa Oasis and Alexandria
When placing events on your calendar using these buttons, please check that time zone displays correctly.