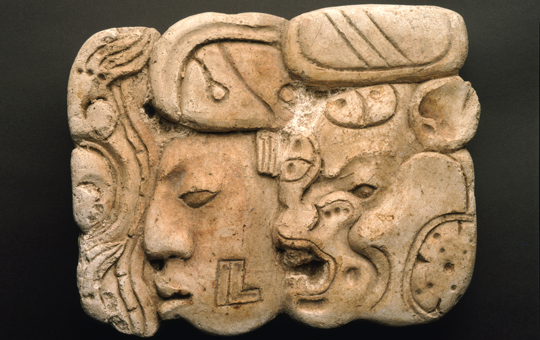 How to Read Maya Hieroglyphs
A Beginner's Guide
Four Tuesdays: March 9, 16, 23 and 30
6:30 pm – 8:00 pm
With Dr. Simon Martin
This four-part, online course will explain the fundamentals of how ancient Maya glyphs work and how they were first deciphered. Maya script was in use from at least 300 BCE to as late as 1700 CE—a span of two millennia—and it was the most sophisticated writing system to emerge in Mesoamerica, a region encompassing much of Mexico and Central America. Often carved or painted on materials as diverse as limestone, jade, stucco, clay, bone, and barkpaper, it was used to mark the passage of time and to glorify the reigns of kings and queens. Reading the glyphs has opened unparalleled vistas into Maya life and thought, transforming our understanding of this ancient American civilization.
Simon Martin is an Associate Curator in the American Section at the Penn Museum, a political anthropologist, and specialist in Maya hieroglyphic writing, with a particular interest in the history, politics, and religious beliefs of the Classic Period (150-900 CE). His major focus for three decades has been on the social and political organization of the Maya lowlands and reconstructing the network of hegemonic ties between polities. He has conducted epigraphic fieldwork at Calakmul, a UNESCO World Heritage Site set within the largest biosphere in southeastern Mexico since 1994. His work on Calakmul and its political network has appeared or been discussed in Science, Scientific American, National Geographic, Archaeology, and the Proceedings of the National Academy of Sciences. Simon also took part in the NOVA television program "Cracking the Maya Code" and other shows for the Discovery and History Channels. His most recent contribution was to the National Geographic Channel's "Lost Treasures of the Snake Kings" (2018). He has authored 37 articles and book chapters, together with another 15 co-authored pieces. His book Chronicle of the Maya Kings and Queens, with Nikolai Grube (2000), is now in its second edition (2008) and has been translated into five other languages. He co-developed the exhibition "Courtly Art of the Ancient Maya" for the National Gallery of Art, Washington D.C. and Fine Arts Museums of San Francisco, writing its accompanying book together with Mary Miller (2004). He co-curated the exhibition "MAYA 2012: Lords of Time" and the Penn Museum's newly installed Mexico and Central America Gallery. His most recent book "Ancient Maya Politics" was published by Cambridge University Press this year.
$175 General | $125 Member
When placing events on your calendar using these buttons, please check that time zone displays correctly.