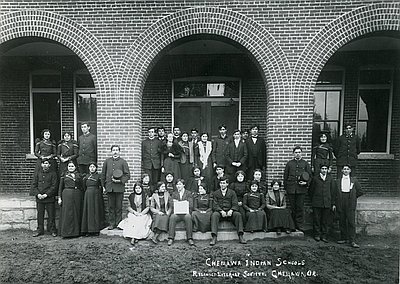 The final presentation in the Archaeological Institute of America's Dayton Society 2022-2023 Lecture Series presented by Northern Cheyenne Tribe citizen Marsha Small, M.A. from Montana State University and Dr. Jarrod Burks from Ohio Valley Archaeology, Inc.
Since 2016 Marsha Small and Jarrod Burks have been conducting geophysical investigations to identify the locations of over 200 unmarked burials at the Chemawa Boarding School in Salem, OR. The school originally opened in 1880 and today is one of four remaining off-reservation boarding schools funded and operated by the federal Bureau of Indian Education (BIE). From the 1880s to about 1940 students who died at the school were buried in the school cemetery. Disturbances in the cemetery had by 1960 removed any grave markers that were there and since then new markers were placed to create a memorial garden, though those markers did not mark actual grave locations.
This lecture is currently scheduled to take place in person in the Science Center Auditorium (SC 114) at The University of Dayton.
For those planning to attend in person please see info on UD's guidance on face coverings here: https://udayton.edu/coronavirus/frequently_asked_questions.php#face_coverings
For a campus map with building and parking information visit https://udayton.edu/map/
Thanks to the Archaeological Institute of America's Lecture Program and its Dayton Society members this lecture is free and open to the public.
When placing events on your calendar using these buttons, please check that time zone displays correctly.