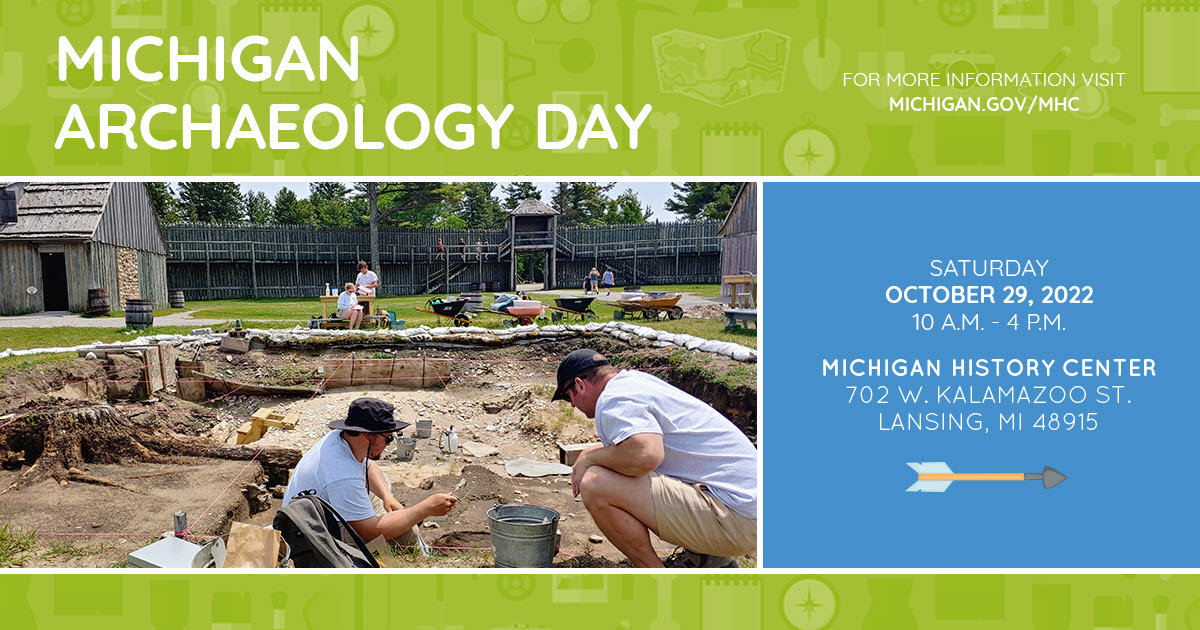 Have you ever thought about what it's like to be an archaeologist? Here's your chance to talk to archaeologists about investigations and artifacts that tell the story of 14,000 years of Michigan history!
This FREE annual event returns to the Michigan History Center on Saturday, October 29, 2022.
We think you're going to have a great time, whether this is your first Archaeology Day or you come every year. Archaeologists who work in Michigan will be stationed throughout the first and second floors of the museum where they will tell you about their research, show you some of the artifacts they have found and answer your questions. We'll have hands-on activities for kids, you can watch a flintknapper make stone tools and everyone can try throwing a spear using an atlatl. Feeling adventurous? Join a scavenger hunt! Have an artifact that you want to learn more about? Show it to our Archaeology Roadshow experts! With so many activities to choose from, you may need to take a break. Join special presentations in the Forum auditorium. Tour the galleries, make a clay pinch pot, have a seat in the auditorium, ask lots of questions and have fun!
To support the preservation of archaeological artifacts and sites, no monetary values will be provided at this event.
Visit the event agenda for details as they become available: https://www.miplace.org/archaeology-day/
Michigan Archaeology Day is presented in partnership by the Michigan History Center, Department of Natural Resources, State Historic Preservation Office and Michigan Economic Development Corporation.
When placing events on your calendar using these buttons, please check that time zone displays correctly.