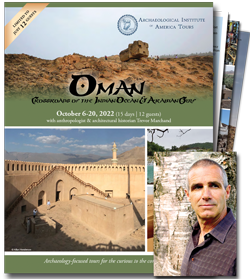 Oman's Bronze Age, Iron Age, pre-Islamic, and Islamic sites are spectacular. This custom-designed itinerary with seasoned study leader Trevor Marchand delves into the historical monuments and cultural history of Oman, while also sampling the country's great geographical diversity, from spectacular deserts and wadis to pristine coastlines, including a reserve for the endangered green sea turtle. On this program, maximize your time in-country with group flights between Muscat in the far north and Salalah in the far south. Oman was historically the link between Arabia, Africa, and South Asia. For centuries, Oman dominated the Indian Ocean's commerce, governing Gwadar (on the coast of modern-day Pakistan) and Zanzibar. Indeed, Oman dominated the trade routes from Moorish Spain to Canton (modern-day Guangzhou, China); her ships and seafarers sailed into harbors worldwide, and her merchants traded in the commodities of civilization, such as frankincense, myrrh, silk, gold, spices, and coffee.
Today, the country takes pride in sharing its rich history with visitors, as demonstrated in its world-class museums.
When placing events on your calendar using these buttons, please check that time zone displays correctly.