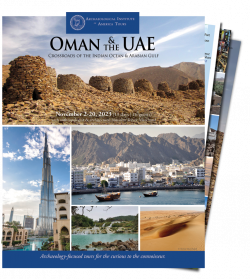 Delve into the cultural and geographical diversity of Oman and the United Arab Emirates (UAE) in the company of seasoned study leader Trevor Marchand. Our custom-designed itinerary highlights ancient sites and historical monuments, and helps illustrate how influential geography has been on the region's history and how the region's maritime history has linked it to elsewhere in Arabia and as far as Africa and southern Asia. Begin with three full days in the UAE. Still a little fishing village as of the 18th century, Dubai was a center of pearl exports until the 1930s. Similarly, Abu Dhabi was founded as a simple pearl and fishing village. After the discovery of oil in the Arabian Gulf, Dubai became one of the wealthiest cities in the world, and Abu
Dhabi was transformed into a luxurious modern metropolis and the capital of the UAE. But this region was settled many centuries earlier, and we will observe how the old and the new co-exist in intriguing ways. Spend the balance of our time exploring Oman, which dominated for centuries the maritime trade routes from Moorish Spain to Canton (modern-day Guangzhou, China). Her seafaring merchants traded in such commodities of civilization as frankincense, myrrh, silk, gold, spices, and coffee. Today, Oman takes pride in sharing its rich history with visitors, as demonstrated in its world-class museums. Altogether we will learn about these countries' histories, cultures, art, and architecture while witnessing their great geographical diversity, from spectacular
deserts and wadis to pristine coastlines, including a reserve for the endangered green sea turtle.
When placing events on your calendar using these buttons, please check that time zone displays correctly.