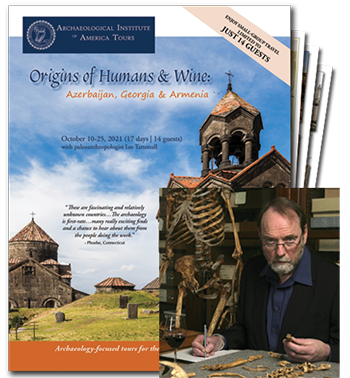 Join us for an exciting trip back in time to explore early humankind and the 'cradle of wine' in the southern Caucasus. Learn about ancient wine-making techniques and sample the bounty of the region's vineyards. Explore medieval towns and UNESCO World Heritage Sites, including prehistoric through early Christian complexes. Enjoy Georgia's famed hospitality, wherein a 'visitor is considered a gift from God.' This is a region of extraordinary contrasts, deep history, and cultural diversity.
HIGHLIGHTS:
* Travel and learn with AIA lecturer and host Ian Tattersall, who is both a paleoanthropologist and an oenophile; plus a professional tour manager and local guides
* Visit impressive UNESCO World Heritage Sites: Baku's Old Town, Shirvan Shah Palace complex, and 98-foot-tall Maiden Tower, plus the ancient petroglyphs of Gobustan, in Azerbaijan; Georgia's Mtskheta; and Armenia's Haghbat monastery, Echmiadzin, and Zvartnots Cathedral
* Learn about and sample wines at five different wineries: Azerbaijan's ASPI Winery in the Savalan Valley; Georgia's Tibaani Vineyards, cellar of French vigneron Vincent Jullien, and Chateau Mere winery; and Armenia's Areni Winery near the ancient Areni-1 cave complex
* Explore a variety of fascinating prehistoric through early Christian sites, including:
* Dmanisi, a medieval town under which were found five 1.8-million-year-old Homo erectus skulls
* The cave complex of Areni-1, where a 6,000-year-old winery was discovered
* Several of Georgia's oldest churches, including Bolnisi's Sioni Church, Tbilisi's 6th-century Anchiskhati Basilica, and Mtshketa's 11th-century Svetitskhoveli Cathedral
* Impressive monasteries, including 6th-century Jvari, with one of the country's earliest (and one of its finest) churches; and Haghbat, a fortified 10th-century literary, artistic, and education center as well as a monastic compound
* Enjoy a large feast, known as a supra, by experiencing a Georgian Table covered with plates of delicacies balanced on top of each other plus countless toasts
When placing events on your calendar using these buttons, please check that time zone displays correctly.