VIRTUAL - Society Sunday
January 3, 2021 @ 11:30 am

-

6:00 pm

CST

Central Time
This is an online event.
Sponsored by: AIA Societies Committee
---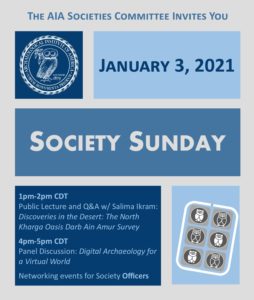 Join us for Society Sunday, on January 3, 2021, to kick off the AIA's Annual Meeting.
11:30am-12:30pm CST Society Representatives' Brunch (by invitation only)
1pm-2pm CST Public Lecture and Q&A with Salima Ikram:
Discoveries in the Desert: The North Kharga Oasis Darb Ain Amur Survey 
(
REGISTER HERE
)
4pm-5pm CST Panel Discussion: Digital Archaeology for a Virtual World (
REGISTER HERE
)
5pm-6pm CST Society Officers' Happy Hour (by invitation only)
Discoveries in the Desert: The North Kharga Oasis Darb Ain Amur Survey
Kharga Oasis, the largest oasis in the western desert has been relatively unexplored until recently. Recent work has revealed a series of large Roman forts, petroglyphs, and Pharaonic inscriptions that reveal the long and rich history of exploitation of this oasis. An overview of new discoveries made by the North Kharga Oasis Darb Ain Amur Survey will be presented.
Prof. Salima Ikram is Distinguished Professor of Egyptology at the American University in Cairo, Extraordinary Professor at Stellenbosch University, and and is a Research Fellow at the Smithsonian's Natural History Museum. She has worked as an archaeologist in Egypt since 1986. She has co-directed the Predynastic Gallery project and the North Kharga Oasis Survey, and has directed the Animal Mummy Project, the North Kharga Oasis Darb Ain Amur Survey, which focuses on rock art, and the Amenmesse Mission of KV10 and KV63 in the Valley of the Kings. She has also worked in Egypt, Sudan, and Turkey as an archaeozoologist. A member of the American Academy of Arts and Sciences, Dr. Ikram has published extensively in both scholarly and popular venues (for adults and children) on diverse subject matters, ranging from traditional Egyptological subjects to zooarchaeological topics. Currently her research focuses on the changing climate of Egypt as reflected in the fauna, relying on evidence derived from pictorial, textual, archaeozoological, and climatological evidence; changing food sources and eating habits; rock art; and funerary customs.
Digital Archaeology for a Virtual World
Join us as AIA Societies Committee member Carolyn Laferrière moderates a panel discussion about digital archaeology. Hear from team members from Peopling the Past, Digital Hammurabi, and Everyday Orientalism.
Digital Hammurabi is a public outreach/digital humanities project that aims to provide reliable, accurate information about the Ancient Near East and surrounding areas in an entertaining and engaging fashion. Resources about the Ancient Near East are few and far between, and often filled with misinformation. Digital Hammurabi tries to fill that need through interviews with researchers, and educational videos, as well as self-published books aimed at a non-specialist audience.
Panelists: Megan Lewis and Joshua Bowen.
Peopling the Past is a Digital Humanities initiative that hosts free, open-access resources for teaching and learning about real people in the ancient world and the people who study them.
Panelist: Christine Johnston. Peopling the Past Team: Carolyn M. Laferriere, Chelsea A.M. Gardner, Christine Johnston, Megan Daniels, Melissa Funke and Sabrina C. Higgins.
Everyday Orientalism is a platform for discussing and challenging the ways in which western history and power have shaped people's views of the Middle East and other non-western cultures.
Panelists: Katherine Blouin and Usama Ali Gad. Everyday Orientalism team: Katherine Blouin, Usama Ali Gad, and Rachel Mairs
When placing events on your calendar using these buttons, please check that time zone displays correctly.