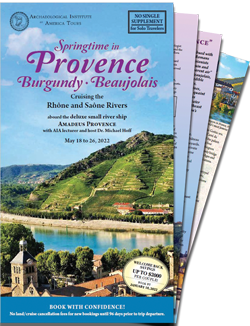 Burgundy • Beaujolais: Cruising the Rhone and Saône Rivers
Join Archaeological Institute of America lecturer and congenial host Michael Hoff, a classical archaeologist who specializes in Roman architecture, for this exclusive, nine-day spring sojourn through Provence and the wine regions of Burgundy and Beaujolais. May is a wonderful time to visit when the region's famous flora radiates throughout the timeless French countryside.
Cruise for seven nights, round trip from historical Lyon, along the fabled Rhône and Saône Rivers aboard the deluxe, exclusively-chartered Amadeus Provence. Dock in the heart of each port town and visit six UNESCO World Heritage sites, including the medieval papal palace of Avignon; the wonderfully preserved Roman amphitheater in Arles; the Roman theater in Orange; and the Pont du Gard aqueduct, a true masterpiece of ancient Roman architecture.
Daily excursions include tours of châteaux, vineyards, old towns, wine tastings, a world-class piano concert, and more. Aboard your deluxe riverboat, enjoy a series of onboard lectures by Professor Hoff and other experts.
This is the quintessential Provençal experience and an excellent value featuring a comprehensive itinerary through southeastern France in full bloom. We encourage you to book now while "welcome back" savings are still available.
When placing events on your calendar using these buttons, please check that time zone displays correctly.