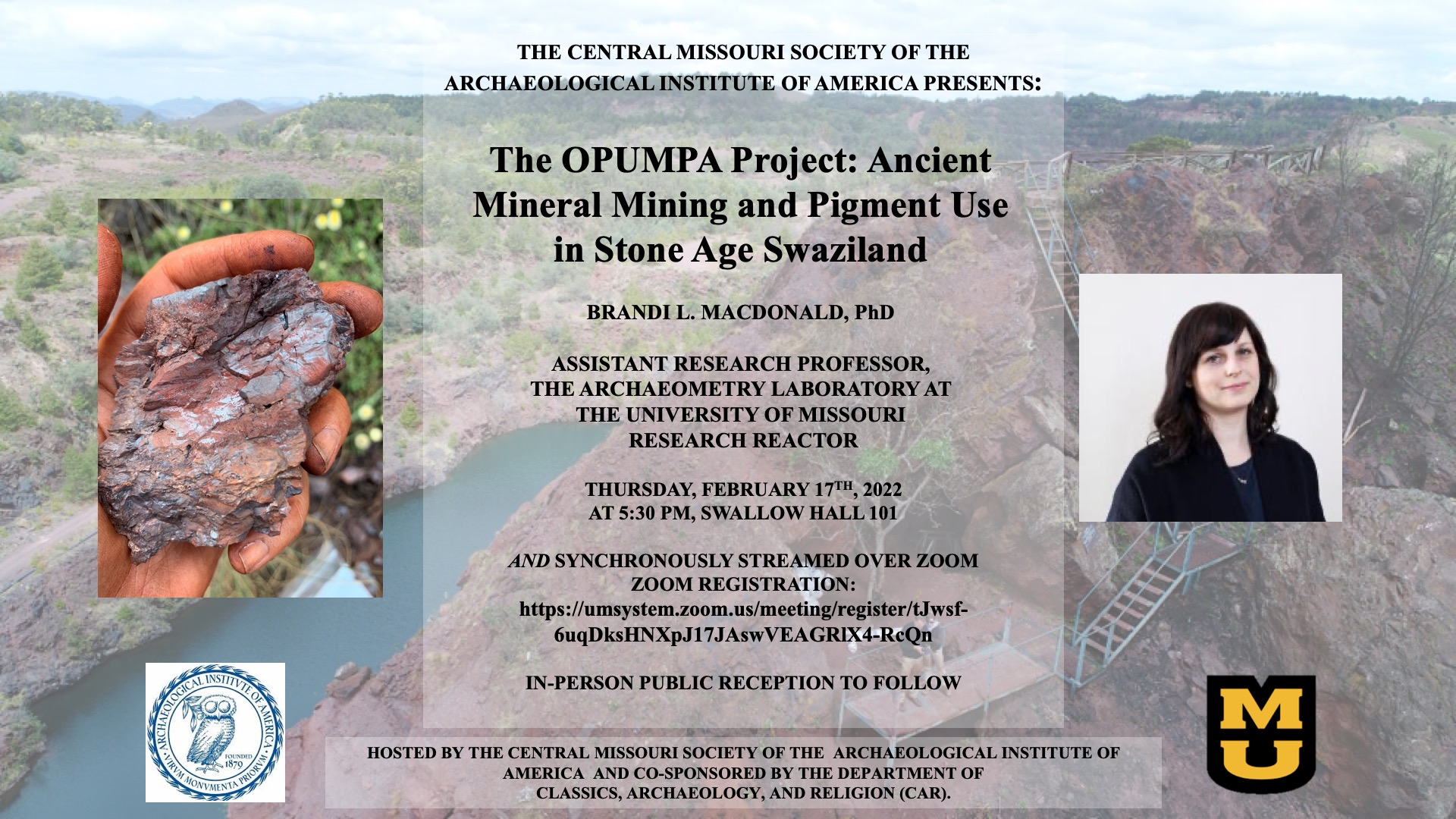 "The OPUMPA Project: Ancient Mineral Mining and Pigment Use in Stone Age Swaziland," presented by Dr. Brandi L. MacDonald (Assistant Research Professor, The Archaeometry Laboratory at the University of Missouri Research Reactor).
This lecture will be held in person in Swallow Hall 101 at the University of Missouri-Columbia, but we are also providing a zoom link to accommodate anyone who would prefer to attend remotely.
The lecture will begin promptly at 5:30 pm, with an in-person reception following. This reception is open to the public.
Date: Thursday February 17th, 2022
Time: 5:30 PM (CST)
Location: Swallow Hall 101
Zoom registration link (required for remote attendance):
https://umsystem.zoom.us/meeting/register/tJwsf-6uqDksHNXpJ17JAswVEAGRlX4-RcQn
Abstract: "Red mineral pigments, known to many as "ochre", captured the attention of humans throughout the Middle and Late Stone Ages in Africa. These iron-rich minerals were highly valued for their pigmentaceous properties and were used to decorate cave walls with rock art, to paint portable objects, as a component of mortuary practices, among many other social, ritual, and symbolic contexts that are still practiced today. The OPUMPA project focuses on archaeological investigations at Ngwenya, the world's earliest known ochre pigment mine dating to over 40 kya, and surrounding archaeological sites that span the Middle and Late Stone ages, through to the historic period. Using advanced methods in archaeological science, we used geochemical analysis to reconstruct the mining and transport of ochre mineral pigments from Ngwenya and other sources across Swaziland, in some cases over hundreds of kilometers, suggesting the presence of long-distance social networks. This talk will review some highlights from this ongoing project, including pigment mining landscapes and rock art across Swaziland."
When placing events on your calendar using these buttons, please check that time zone displays correctly.